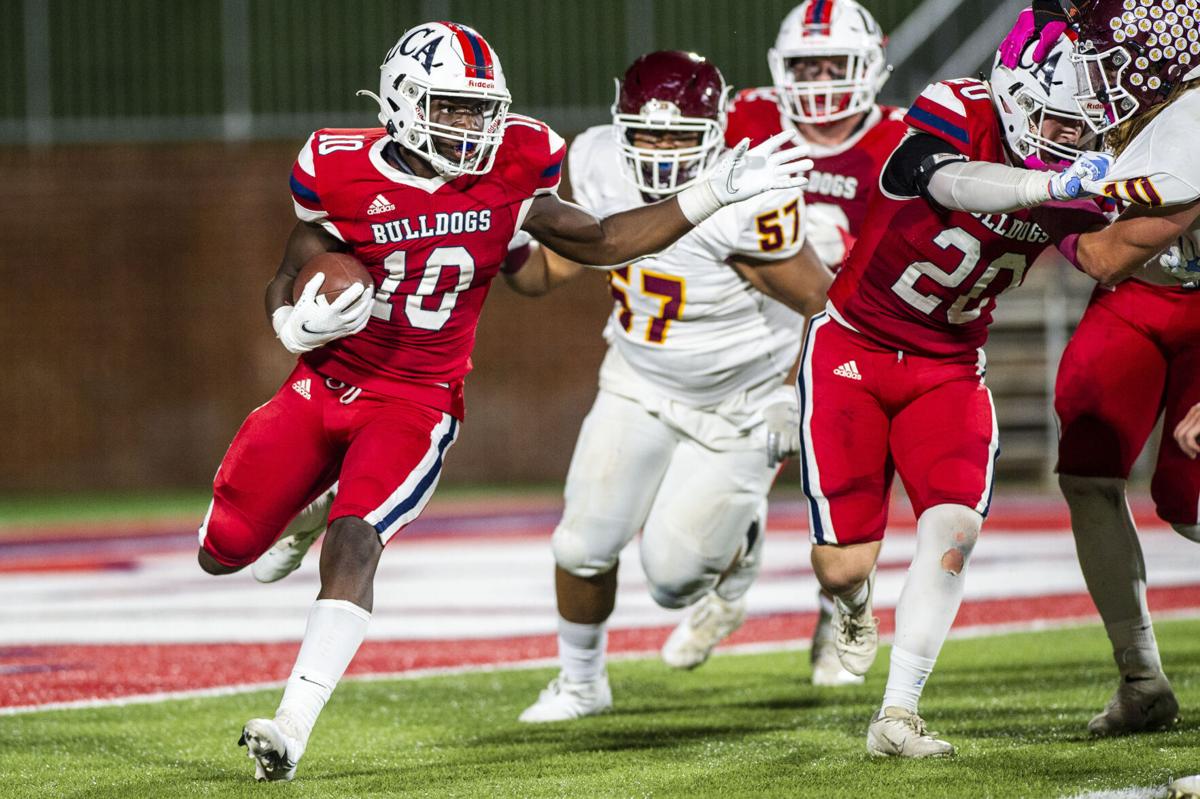 Caleb and Gideon Davidson didn't know what football was when they arrived in the United States from their native Ghana as children. Watch them play and you'd never guess they are relative newcomers to the game. Caleb, a 6-foot-1 junior, began playing in seventh grade. Gideon, a 6-foot freshman, started playing just four years ago and already holds five Division I offers. 
The Davidsons are a big reason for the success of Liberty Christian's football team. The Bulldogs (8-0) can earn the Seminole District crown outright if they defeat E.C. Glass (8-1) on Friday in one of the most anticipated showdowns of the regular season. Caleb and Gideon, running backs with different styles, have infused life into the team with their ability to elude defenders. Caleb is a downhill, up-the-gut runner. Gideon is a slasher who likes to get to the outside edge and run to daylight. 
"[Caleb] runs stronger, I run faster," Gideon said as the boys stood talking along with their father, Brian, after Wednesday's practice. "As in, he runs people over, I juke them out."
That double dose of trouble has been nicknamed Thunder & Lightning by an LCA coach. And it shows in the stat book, too. After a 131-yard performance last week, Gideon currently leads the team in rushing yards with 691 on just 55 carries. He's scored 10 times. Caleb sports 590 rushing yards on 82 carries and 12 touchdowns. The brothers are each averaging better than 12 yards per tote. Last week, Gideon scored twice and did all his damage on just seven carries, good for 18.7 yards per run.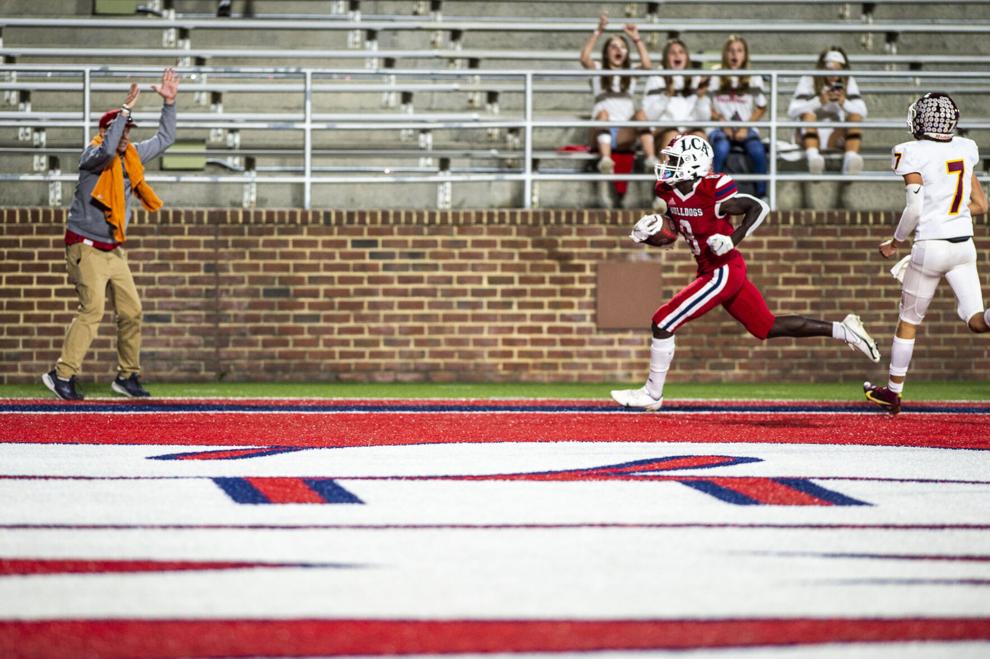 These stats are important not just because they're impressive, but because they're a good measuring stick for how the brothers view each other. They are ultra competitive, and they encourage each other while also using the other's success as motivation. 
"If he scores a touchdown before me, I'm gonna be the next one to score after him," Caleb Davidson said.
Gideon welcomes the challenge. "In the middle of the season, like five games in, I wanted to start, but [Caleb's] got that position," he said. "So I've been trying to push that and start, but we get even reps."
Brian Davidson understands that competitive nature and believes it's healthy for his sons' development. "They used to compete to brush their teeth," he quipped. Then added: "They are really good at rejoicing in each other's success."
On Nov. 11, Caleb, Gideon and their older brother Josh will celebrate 10 years since being adopted by Brian and Christine Davidson. 
The three boys' journey to the U.S. from Ghana shaped their future. Caleb was just 4 years old when he boarded a bus with his brothers in the West African country and traveled 16 hours to a orphanage. Gideon wasn't yet 2. Josh, who viewed himself as their protector, was just a few years older than Caleb. 
They were sent to an orphanage after their father died. Their mother had six children and couldn't provide for all of them on her own. They arrived in the U.S. a few years later and were adopted by a family living in Indiana. But that family couldn't meet their needs and gave them up after about 2½ years. 
"We were asked if we could take them in," Brian Davidson said. He and Christine had already raised four children and considered themselves empty nesters. "That was a Friday. By Saturday, I had a hundred and one reasons why it was a bad idea. But Sunday, we were like, 'Let's find out a little more about these boys.' And the next Friday they were in our house."
Brian was a soccer coach who had traveled all over the world, created an outreach ministry called Sports Friends and once coached professional soccer with the Charlotte Eagles. His new three sons were athletic, so Brian thought they'd enjoy soccer. Josh took to it. Caleb and Gideon, not so much. Football came out of the blue, when Josh, who now plays linebacker for Indiana Wesleyan, told Brian at the dinner table he wanted to try it. 
"I was like, "Oh no, Josh, we're soccer people," Brian said. "And I felt so convicted the next morning that I said, 'I'll find you a team."
Caleb, also a baseball player, plans to attend a trade school or play football in college if he receives an offer. Despite only playing since he was in sixth grade, Gideon received an offer from UVa while he was a eighth grader. 
"That's very rare, even today," LCA coach Frank Rocco said of Gideon. "Today is just as off the wall as [recruiting] has ever been, but to get an offer as [an eighth grader] is very rare. He's a rare breed. You see a handful of them in a lifetime of coaching, and he's one of them. You don't want to shine all the light on Gideon because Caleb and Josh in their own right are outstanding football players."
Since UVa came knocking, Gideon has received other offers: Penn State, LU, South Carolina and, most recently, Virginia Tech. Gideon and Caleb are quiet guys by nature and they don't seek the limelight, so Gideon keeps a level head about his success. He's not overwhelmed by the attention, just chooses to roll with whatever happens.
The brothers have never been back to Ghana, but that could change soon. Josh plans to visit his mother and three siblings next May or June. Brian Davidson hopes Caleb and Gideon can go, too. "It'll be awesome," Gideon said. Caleb also feels that way. "I'm nervous to meet my mom and brothers and sisters, but it will be fun," he added.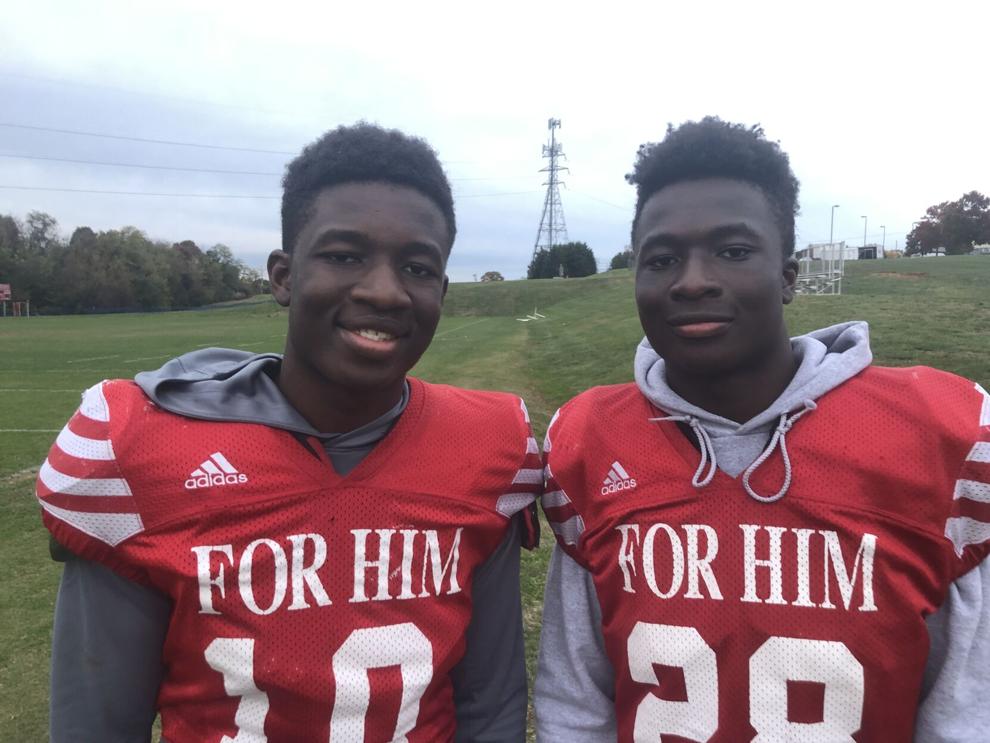 Brian thinks about everything the boys have been through. Traumatic experiences they endured. Facing down a new life at such young ages. Uncertainties and disappointments. The boys have weathered them all, he said. Brian recently heard from one of the boys' uncles in Ghana. He wanted to get Caleb and Gideon together for a FaceTime chat with their mother, something Brian estimates has occurred four or five times over the last decade.