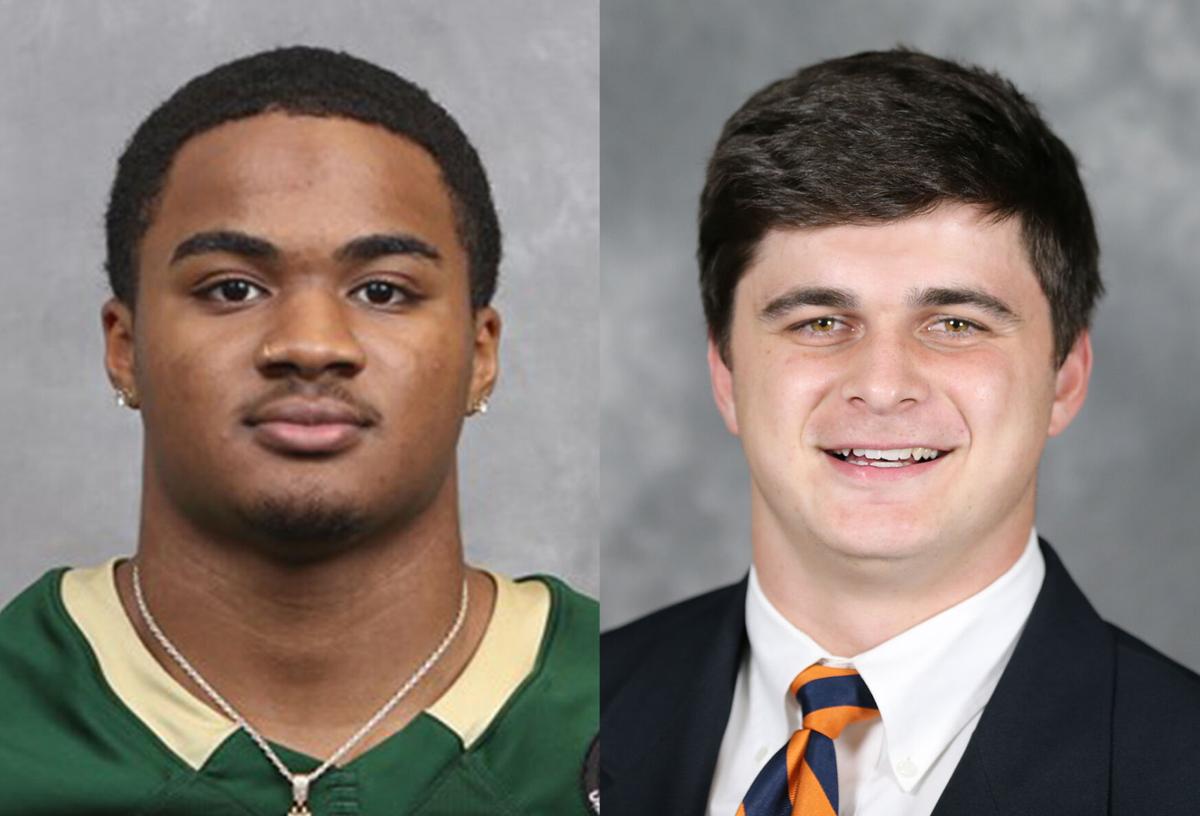 DreSean Kendrick spends most months in Williamsburg, while Sackett Wood has found a new home in Charlottesville. After spending years as teammates at E.C. Glass, the two — Kendrick now at William & Mary and Wood at the University of Virginia — rarely see each other these days.
Their paths crossed briefly during the summer, when both were back in Lynchburg and working out at their alma mater. Another meeting will take place Saturday, when the two and their current football teams will face off at Scott Stadium for their season opener.
"It's really cool," Kendrick said of his forthcoming reunion with Wood. The contest is set for 7:30 p.m. in Charlottesville and will be televised on the ACC Network.
When they saw each other at Glass not too long ago, neither athlete really remembered the upcoming game, or that they would be pitted against each other for the first time.
Wood, a junior academically and a sophomore with the Cavaliers football team, used to be the beneficiary of Kendrick's athletic prowess. The UVa player, who filled in at multiple positions during his high school playing days, often was on the receiving end of Kendrick's touchdown passes. Kendrick, who graduated from Glass the year after Wood and is now a redshirt freshman with the W&M football team, played QB in high school.
This week, the two have been focused on achieving the exact opposite goal. For Kendrick: beat Wood and UVa, a Power Five opponent that will give William & Mary a chance to "play on a big stage," Kendrick said. For Wood: earn win No. 1 on the season over Kendrick's Tribe.
"It'll be a good game," Kendrick predicted during a phone interview Wednesday evening.
Wood was more pointed when asked what fans can expect to see from the teams of the Glass grads. "A lot of points for UVa, and not a lot for William & Mary," he said, conceding, though, that "anything can happen."
The two each have been working to find more playing time heading into the 2021 campaign, and both are in different positions than they played in high school.
Kendrick, who once commanded the offense, now is listed as a running back. He takes handoffs but also said his speed — which regularly burned opponents during his prep days — allows William & Mary to throw passes his way on occasion, too.
In his first year with the team, during a campaign shortened by the pandemic, Kendrick saw action in three games. His redshirt allows him four more years of eligibility, including this one.
Wood, who was primarily a receiver and QB in high school, plays tight end for the Cavaliers. He initially hung up his football jersey after high school but made the decision to attempt to walk on to the team, saying he knew he would regret not at least trying at the time.
Wood made the team and played in two games last season, and he has a shot at adding to his game log this year. Less than two weeks ago, following a UVa scrimmage, Wood heard the words he'd been working and longing to hear when coach Bronco Mendenhall announced he had earned a scholarship.
"Hey, Mom and Dad, guess what?" Wood said in a video posted to a UVa social media account. "I'm on scholarship."
The message from Wood came at the conclusion of the video, which also featured his teammates mobbing him in celebration.
"That was definitely one of the best moments I've probably ever had," he said.
Including this season, Wood has three years of eligibility remaining. He said his work during the offseason earned him a spot in UVa's "Dirty Dozen," which helped to boost his case for a scholarship. The Dirty Dozen recognizes the top four achievers in three groups — skill (running backs, wideouts, QBs, defensive backs), big skill (linebackers, tight ends, punters, kickers) and big (linemen) — in the Cavs' offseason strength and condition program.
Wood said he focused especially on agility and becoming strong enough to compete in the ACC. The 6-foot-3 tight end said he's put on about 55 pounds (weighing in at about 250) since trying his hand at football at the college level.
Likewise, Kendrick has put on about 10 pounds of muscle and has gotten even faster. His "knowledge of the game has gotten better," too, he added.
Kendrick hopes those gains translate into added playing time. It's been "weird" to transition from rarely coming out of the game during high school to now "having to work my way into the game," he admitted. But he knows stepping onto the gridiron at the college level is what he's meant to do.
"I worked for this," Kendrick said, remembering that, after getting one play under his belt during a regular-season game last season, competing with the 11 players opposite him to get to the end zone "is just what I'm used to."
The two will rely on those instincts, the skills they built at Glass and on their offseason gains to carry them Saturday, when they'll stand on opposite sidelines.
For 60 minutes, they'll be enemies for the first time. The two, of course, won't ever relinquish the respect they share for each other.
"One of the hardest-working guys I know," Kendrick said of Wood, adding Wood "definitely deserves" the coveted scholarship he recently was given.
And Wood is looking forward to seeing Kendrick again. "DreSean's my guy," Wood said. "For sure want a picture [after the game]" — though that regard for his former teammate didn't keep him from talking up his Cavs. "Definitely expect us to win pretty handily."