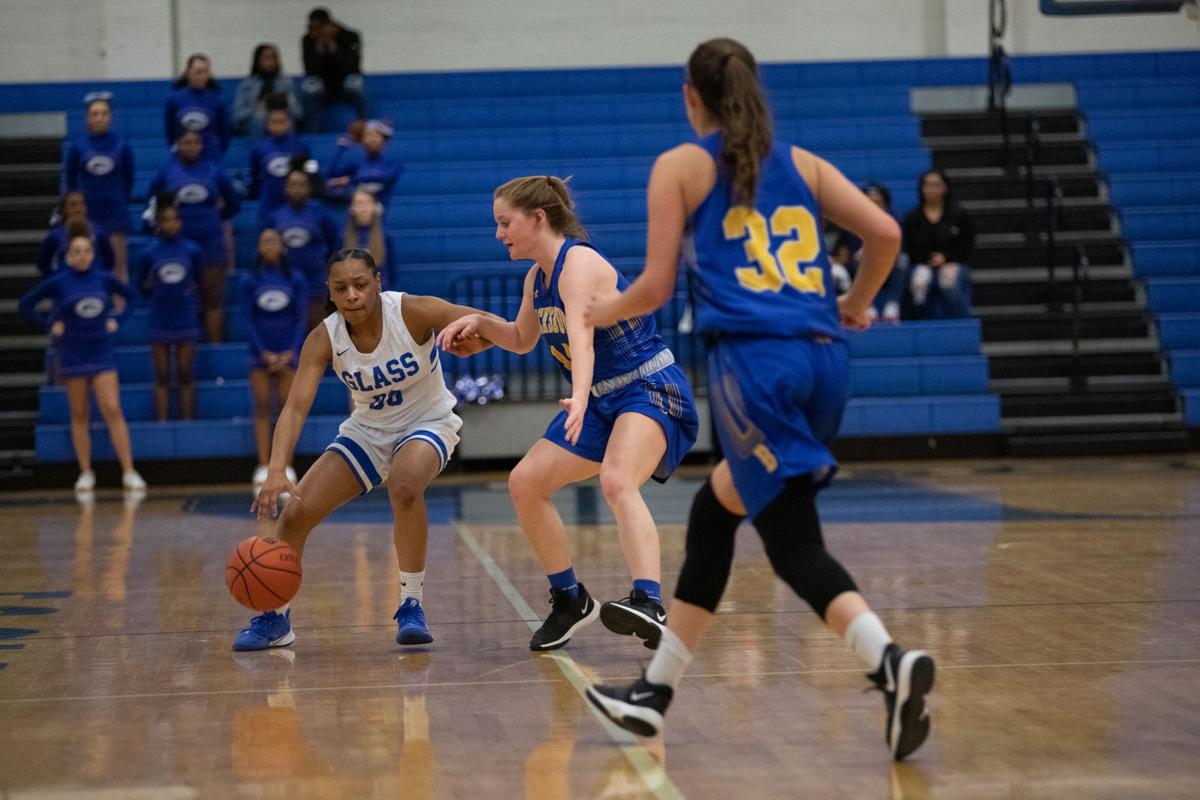 The E.C. Glass girls basketball team didn't have the offseason it normally would. It didn't get to play the schedule it normally would. And it didn't have the in-person support of fans it normally would.
But the Hilltoppers, coming off one of their best campaigns in the last decade, overcame that deficit throughout the season. With the goal of a region title and a repeat trip to states, Glass was looking forward to a potential postseason run.
On Tuesday night, though, after playing all eight of their regular-season games, the Hilltoppers had their run cut short before it began.
The E.C. Glass girls' season came to a premature end thanks to COVID-19 protocols. Both the Glass and Heritage boys teams saw their seasons come to an early end for similar reasons last week.
The Hilltoppers entered the Region 4D tournament as the No. 2 seed and would have played No. 3 Amherst (8-2) in the semifinals today, in a rematch of a regular-season game Glass won 46-31.
The Lancers won their quarterfinal game Monday and now have an unconventional bye today. They'll play in the Region 4D title game against undefeated and No. 1 Pulaski or No. 5 Salem, who face off tonight. If Pulaski wins, the Lancers will be on the road. If Salem wins, they'll be at home. Pulaski beat Salem twice in the regular season.
Heading into the now-called-off game, the Hilltoppers were on a roll, perfect in district play for the second straight year.
Glass coach Anitra Thomas credited her team's energy — a theme that played out in practice, on the bench during games, in transition and defensively — for their success.
"All good things come from energy," she said. "Energy is the sacrifice we have to make to make everything else happen."
Her players, she added, bought in to that concept, and saw the fruits of that commitment.
Junior guard Jamiyah Henry, during an interview last week, put it more succinctly: "We play great when we get hype."
Henry said her team's success started with its defense. Glass caused havoc with its full-court press, creating turnovers at an absurd clip — with total steals sometimes reaching 30-plus per game. Henry, sophomore point guard Jeriyah Osborne and senior shooting guard Amari Osei each averaged more than 3.5 steals per game (with Osei topping the charts at 6.1 per contest).
"That's who we are," Thomas said last week. "For 32 minutes, we're gonna create some chaos."
As a result, Thomas added, "We can create our offense from our defense."
The Hilltoppers found energy elsewhere, too; you can find evidence all over the stats sheets, as players filled them up as they emerged from the shadow of last year's star, Mya Hamlet
Hamlet, who graduated last year after earning all-Class 4 and Region 4D player of the year honors, averaged 14.1 points and 8.8 rebounds per game.
"Last year," Thomas said, "[the other players] didn't have to get it done because Mya always did it."
This time around, Thomas challenged her returners early, telling them if they wanted to repeat the type of success they found last year, "I'm gonna need more from you."
"Everybody has stepped up," Thomas added during last week's interview.
Henry put up flashy scoring numbers this season, averaging a team-high 14.6 ppg. She created off the bounce and pulled up to drain triples (to the tune of almost 2.5 3-pointers a game).
"I can shoot. I can screen. I can roll off the screen, and I'm shooting really good this year," she said during an interview last week.
"I really had to step up this year since Mya is gone, so when I get the ball, I'm already thinking I need to score."
Then there's the Hilltoppers' senior leader, Osei. She also averaged double figures (11.6 ppg). Osborne, Jordyn Goode and Emily Williams were threats, too, with each averaging more than six points per contest.
They all were good in transition, and Williams proved she could be especially deadly from beyond the arc, as evidenced by the numbers she put up in the regular-season finale against Brookville: 23 points, including 21 from 3-point land.
Thomas remembered that contest, a 74-20 win, as an example of how dangerous her team was. Opponents didn't know who to focus on, because any player can go off any night. And her team shared the ball, too, to maximize its potential.
"When I see a good 3-point shooter pass her shot up for a better 3-point shooter," Thomas said, remembering back to Osei's pass to Williams for her seventh triple of the night, "that's when I know they're in it for the team."
Osei got credit for the assist there, but more often than not this season, it was Osborne who facilitated for her teammates — helping the Hilltoppers to double-digit wins in each of their eight games.
"Be a playmaker; make things happen," Thomas said of her challenge to her point guard — one she's certainly accomplished this year.
Osborne, in addition to her 6.4 ppg, averaged almost nine assists per game. Her 17 assists in the penultimate regular-season game are the most of any player in the state since 1995.
"You've gotta find out what everybody's good at," Osborne said. "You know Emily can shoot, so pass it to her. Harper, dump pass."
In the game against Amherst that was called off, Osborne and the Hilltoppers were looking for a second straight shot at a Region 4D title.
After falling to Pulaski in the championship game last year, the Hilltoppers were hoping for a shot at revenge and a second straight trip to the state tournament.
Glass' path through the regular season wasn't especially difficult (as shown by its average margin of victory of 32 points). So it was preparing all along for the postseason. And the Hilltoppers, before Tuesday's news, said they were ready for Amherst and whatever might have been ahead.
"We got a lot of confidence," Osborne said last week.