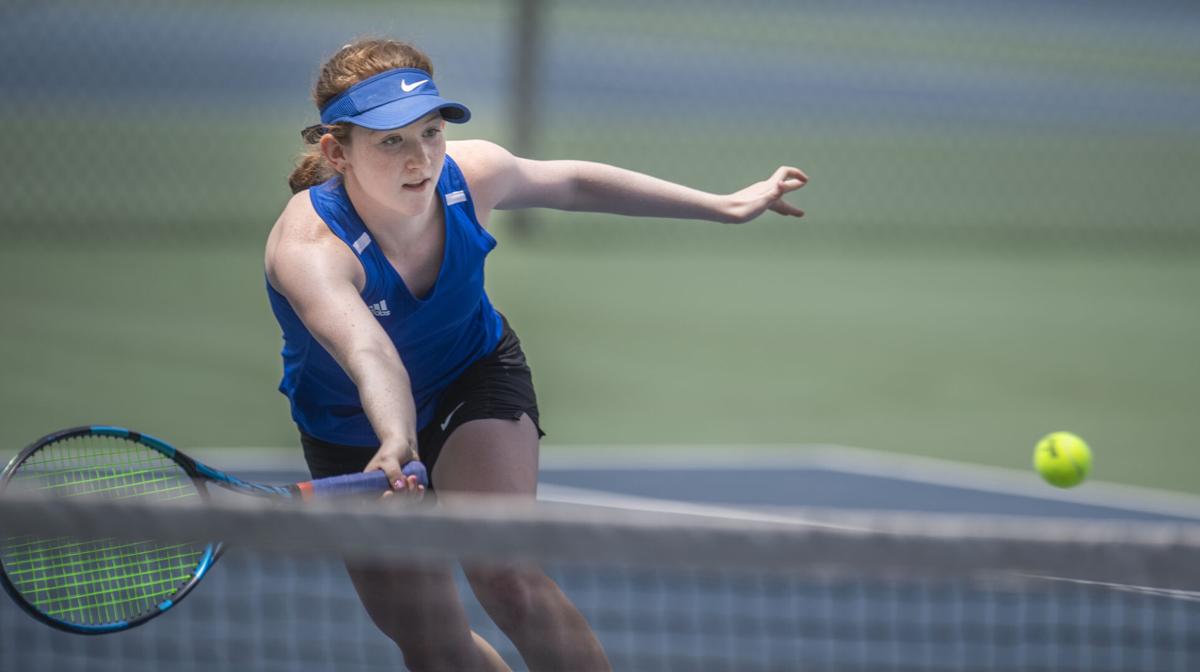 Megan Knight shook off old haunts in Newport News on Saturday, setting rival Raine Weis from Hanover back on her heels in the first set, then grabbing momentum late in the decisive second set that warranted a tiebreaker, and the E.C. Glass senior won the Class 4 state singles championship 6-1, 7-6 (7-4). 
It was redemption for Knight, who lost to Weis in the singles title match in 2019, when each player was a sophomore. 
"I literally obsessed about it for two years," Knight, whose junior year was canceled because of the coronavirus pandemic, said shortly after leaving the court. "I thought about her weaknesses. Every practice partner I had, I imagined it was her. I knew I would have to face her this year."
Knight became the first female from the school to ever capture a state singles title. Glass has a decorated tennis history complete with three state team titles (five more championship match appearances) and three state doubles championships, but served as state singles runner-up on three occasions before Saturday: Kirsten Caister in 1983, Julie Clark in 2012 and Knight in '19. 
The senior is also the only girl from this newspaper's coverage area to ever win a state singles title, according to the Virginia High School League's Book of Records. 
"It takes a special player to lose a season to the pandemic, come back, make it to the state title match, play someone you've lost to before and beat them," Glass coach Diane Brown said. 
The match was moved from outdoor courts at Huntington Park to James River Country Club's indoor courts because of rain in the area. That meant Knight would play on a surface similar to the one she grew up playing on at Boonsboro Country Club. 
And indeed, when things got tight in the second set Saturday, she envisioned she was at Boonsboro, playing with her father, Kevin, who began teaching her the game as a child. She could almost hear Kevin's voice in her head, urging her onward, through tough points. Those memories helped her stay relaxed when Weis toughened up and became aggressive in the second set. 
Knight's 6-1 first-set victory came in shocking fashion. Given that she and Weis, destined to meet for a second time, had battled to a 6-4, 7-6 (7-3) finish that gave the Hanover standout the title two years prior, it's likely no one expected Knight to come out with such fire and accuracy. 
"I think [Weis] was stunned by how much Megan had improved since the last time they had played," Brown said. 
Knight went up 4-1, 30-love in the second set, forcing Weis on the defensive. Knight forced match point with a 5-2 lead, but Weis found new life, winning three straight games to force a 5-5 tie before taking a 6-5 lead. 
Knight then tied the set at 6 to regain momentum and was relentless in her focus, Brown noted, taking the tiebreaker 7-4. 
"She was laser focused the entire match," Brown added. 
Knight has placed emphasis on tiebreakers in practice, asking partners to play a tiebreaking set more often than not. She knew a big match would come down to how she played those crucial points, so she wanted to be prepared. 
"When [Saturday's match] went to tiebreak, I thought I could definitely pull this out," she said. 
Her brother, Spencer, won his state doubles match with partner Wolfgang Ploch on Friday and celebrated the brother-sister state titles with her Saturday. 
"It's super special to me," Megan Knight said. "It's amazing because he's been my hitting partner for so long. He's always cheered me on and pumped me up."
Knight and partner Grayson Laughon lost in the state doubles championship Friday, but Knight cruised in her singles semifinal match, downing Loudoun County's Vivian Lun 6-1, 6-0 to set up the Saturday's anticipated rematch with Weis. 
The only other local player in the entire VHSL field, William Campbell's Sabrina Dickerson, lost her Class 1 semifinals match to Mathews' Connie Johnson, 6-2, 6-0 on Friday at Virginia Tech. Johnson then fell to Auburn's Sara Nichols in the title match, giving the Montgomery County-based Eagles a clean sweep on the Class 1 singles, doubles and team titles.