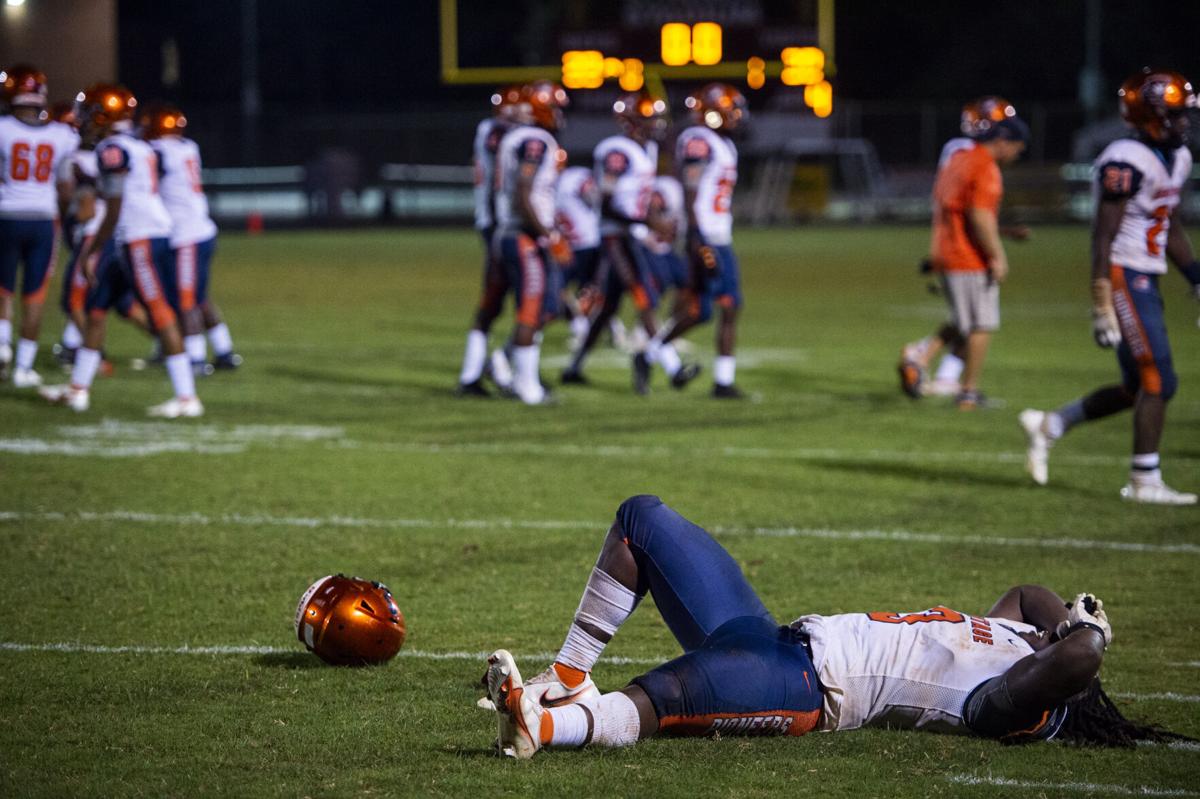 Terrell Washington lay spread out on the grass at Brookville's Stinger Stadium on Friday night and soaked in the moment.
He was exhausted and relieved after playing through a double overtime game that finally swung in Heritage's favor after 2 hours and 17 minutes. The versatile junior, who stands at 6-foot-1 and weighs 237 pounds, knew he'd given all he could, fighting through every second of the game except when special teams took the field.
"It was a crazy game," Washington said during Wednesday's practice as his Pioneers (5-1) prepared for another Seminole District showdown, this time against Liberty Christian (5-0). "Had to keep fighting. It was just a battle. [Brookville] gave us everything they had and we gave them everything we had. It was a tiring game because I put everything I had out there for them."
That statement ties into a theme running through Washington's junior season. He wasn't happy with his performances in the spring season, so he's determined to up his game. Give everything he has.
"Just trying to prove myself," he said. "Make sure people know who I am. Just be that dog that I want to be."
He certainly turned heads Friday night. In addition to his work on the offensive and defensive lines, Washington hauled in a 2-point conversion with 8:08 remaining in regulation. The pass from quarterback Kam Burns tied the game at 15 and ultimately proved to be the play that forced overtime.
It was the only pass to Washington all night and just his second catch of the season, but Heritage coaches were convinced he was the guy for that moment.
"I ain't really caught the ball since little league," Washington said, "so that was a big one. It was just the coaches believing in me to make that play and tie the game and go into overtime. That was really special."
Washington fills in at numerous spots for Heritage, which is seeking its fifth straight victory Friday. On offense, he normally serves as a blocking back but lines up at tight end and sometimes at slot. On defense, he's either at D-tackle or D-end. Washington is quick for his size, Heritage coach Brad Bradley pointed out, and uses his hands to his advantage on the block or to haul in receptions.
Washington grew up watching football on TV and has been playing since he was 5 years old. Even when he was a kid, there was just something about the game that he loved.
"Just seeing that you can hit somebody and you can't get in trouble for it," Washington said with a laugh.
He made the same type of trek as other city kids, playing on teams like R.S. Payne, the Rivermont Raiders and at Sandusky Middle School. He appeared sparingly on Heritage's varsity squad as a freshman and then started every game as a sophomore in the pandemic-altered spring season. Now he's coming into his own.
"He's got way better focus than he did in the spring season," Bradley pointed out. "Physically he busted his butt in the offseason. In order for us to be successful, he's gonna have to have a good year. He's really played well on offense and defense, and he doesn't get enough credit on offense because he's at blocking back and basically a glorified guard. But he's really improved in terms of blocking and with his understanding of the offense and it shows in terms of the run game and the passing game."
Yes, Heritage needs him to have a strong season, and that fact isn't lost on Washington. While he's taking on an increased role, he's also realizing that, for a football team to operate successfully, every cog in the machine has to work well.
"The team, they really need me out there," he said. "They need me to show up every day and be prepared, to give them everything I have in practice and in the game, for them, so we can win."
On Friday, he'll face off against some of the Seminole's top linemen, like 6-foot-6 Division I recruit Zach Rice and Heritage transfer Gavin Womack, a 280-pound offensive guard and nose tackle. Washington is out to prove he belongs in the conversation of the the area's best linemen.
"I'm comin', I'm the next thing out there," he said. "I know you got Zach Rice, he's the talk out there. But I'm here. I've been in the shadows a long time."