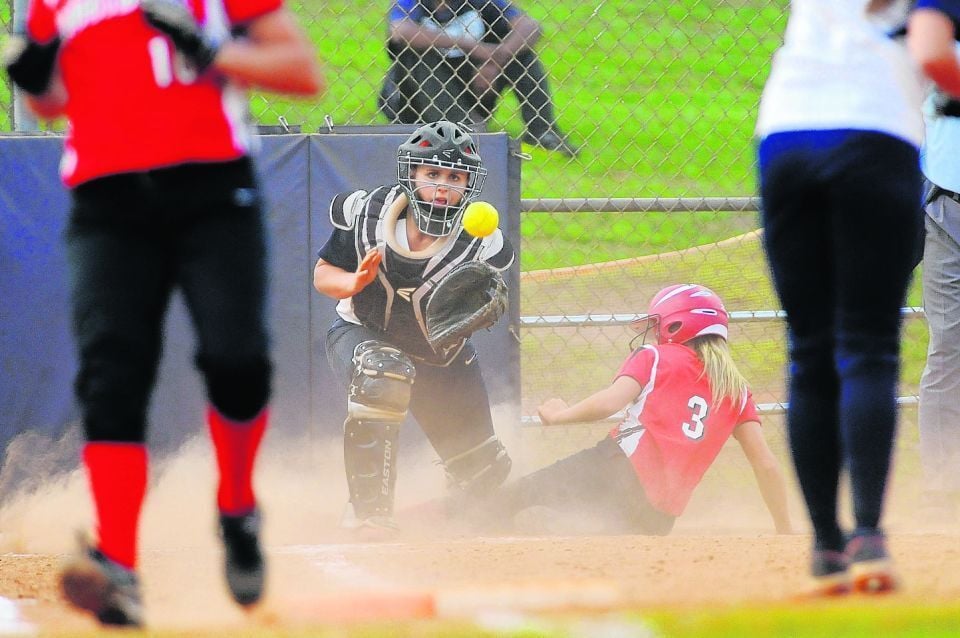 As it enters the 2021 season, the reigning state champion Liberty High softball team will try to build on its legacy with the help of a new leader.
Samantha Baldwin will return to the dugout she grew to know and love in high school with a new title: head coach. Baldwin, a 2014 Liberty grad who continued her softball career at Roanoke College, takes over for Mike Thompson, who stepped down in August to take an assistant principal job at Lynchburg's Linkhorne Middle School.
"She brings valuable experience for these kids," Liberty athletic director Lori Mattson said of Baldwin, the former catcher.
The 24-year-old new coach "has the tools and the ability" to continue building the program, Mattson said. The job of a head varsity coach requires dedication, effort and hard work, the AD added — "Sam knows what that is."
Baldwin, an all-conference and all-district player in high school who also started multiple games in each of the four seasons she played at RC, brings a little more than a year of coaching experience into her new gig. She led the JV team at Liberty in 2019, and in 2020 before the pandemic ended that season prior to its official start. 
In that time, she learned how to help her players gain the type of love and knowledge of the game she'd gained in years of playing the sport.
"Over the course of the two years," Baldwin said, "I really started understanding there's a different mindset between being a coach and a player."
Baldwin, who also works at the high school, pointed to her softball IQ as one of her strengths heading into the new role. By playing in one of the best districts in the state as a high schooler, and then earning college experience, she saw what it takes to build a successful team.
Having played catcher for most of her career, she also brings an understanding of pitching concepts to a Seminole District that routinely has featured Division I-caliber pitching talent.
That level of competition is the immediate challenge Baldwin and the Lady Minutemen face, but the coach is excited for the opportunity to improve.
"If we're not being challenged, we're not getting better," she said.
LHS is coming off a historic 2019 season in which it captured the Class 3 state title, the first state championship for a girls team in school history. The year before, the Lady Minutemen went to the state tournament for the first time ever, falling in the semis.
Under Thompson, the 2019 Class 3 coach of the year, LHS amassed a 56-14 record from 2016 to 2019. Six of those losses came last year by a combined eight runs, but the Lady Minutemen rattled off a perfect postseason record, picking up Seminole District and Region 3C championships before winning the ultimate trophy.
"I'm a little nervous about it, just because I have some pretty big shoes to fill," Baldwin admitted, referring to Thompson. "But I'm really excited to continue the legacy he has left."
Her 2021 squad will feature a spate of new talent, including some faces she coached at the JV level. But she'll also be tasked with replacing Millie Thompson, the pitching phenom now at Clemson. The left-hander was an all-state performer who racked up 255 strikeouts thanks to her devastating changeup, a 22-6 record and a 0.75 ERA in her final full season with LHS.
Baldwin knows getting new pitchers to the right place mentally will be among her first tasks, but she intends to keep expectations high at the plate and in the field, too.
Otherwise, Baldwin aims to build a good team environment as players transition back to the diamond after months away from their high school teammates because of the pandemic. She wants her players to become good teammates by doing whatever is best for the squad. Baldwin also hopes her players have high standards for themselves — "How you practice is how you play," she explained.
Baldwin said she's excited to take over a program she's cared about for a decade. In the years since she graduated from the school, she has been both a fan and participant. She posed with the state championship trophy in Salem, after her alma mater captured the crown last June; and in the months leading up to that milestone, she spent time helping out at varsity practices and offering advice from the dugout during games.
Many of the players already have a connection with Baldwin, who believes her age provides way for her to relate with athletes. And according to Mattson, Baldwin's success as an athlete who only recently wrapped up her softball playing career should serve as inspiration to those whose names will be added to Baldwin's LHS rosters.
"Here's someone that's done it," Mattson said. "… To have [that] I think gives [our players the belief that], 'Hey, maybe I can do this.'"
Get in the game with our Prep Sports Newsletter
Sent weekly directly to your inbox!