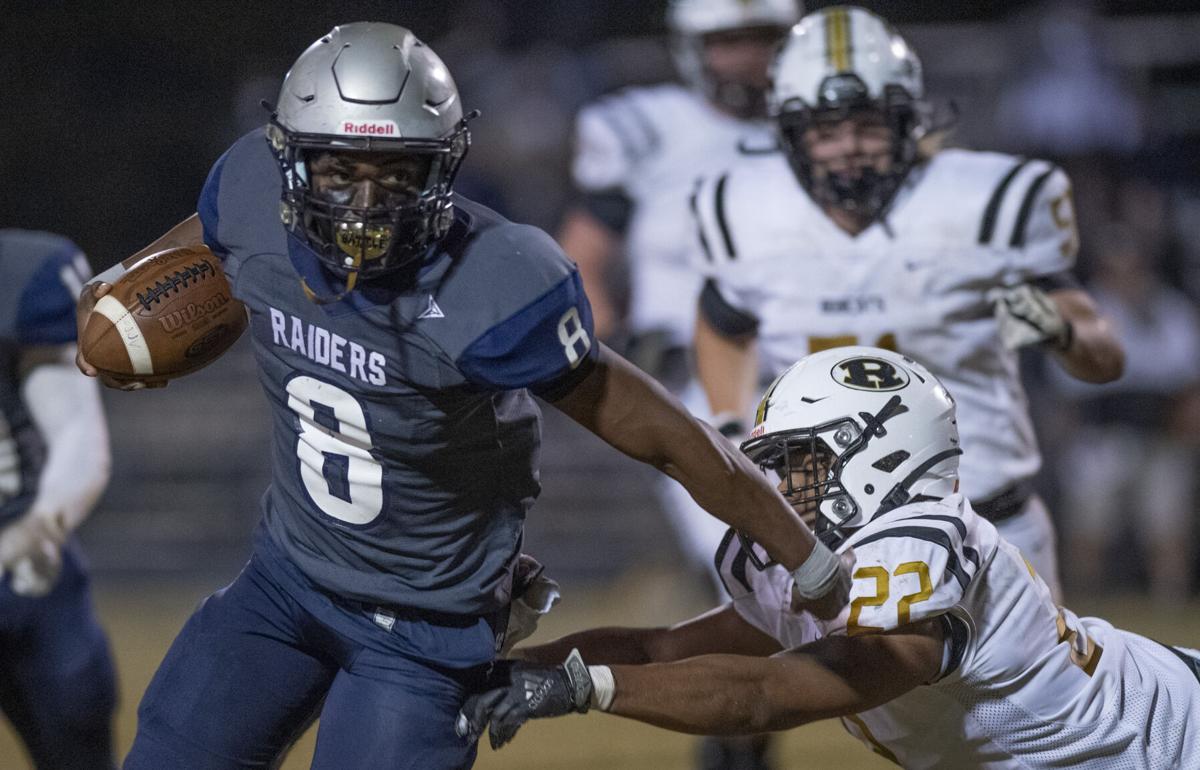 RADIO: 102.1 FM, 94.1 FM, 580 AM
RECORDS: Brookville 7-3. Heritage 9-2. 
LAST WEEK: Brookville pelted Rockbridge County 57-12. Heritage shredded Waynesboro 45-10. 
FACTS: Win tonight and the second-seeded Pioneers will give Brad Bradley his 100th victory since taking over at Lynchburg's westside school in 2012. No. 3 Brookville has other plans and hopes to earn what would be its third victory over HHS in Bradley's tenure. Brookville defeated Heritage 28-7 during the COVID-altered spring season. The Bees are getting healthy and looked remarkably different than they did in the last couple weeks of the regular season. Both teams feature durable quarterbacks, but it all starts with the run for the Timberlake Road squads. Brookville's Tayshaun Butler led the area is rushing yards this season and now has roughly 1,600 rushing yards. Butler can break away for long gains, but he's also effective at pounding the ball up the gut over and over to wear down defenses. Heritage's Zach Steele has recovered from a knee injury and sports 908 yards, with Rajan Booker (660 yards) complementing the run game. Both teams want to establish dominance by toting the ball tonight. Do that and BHS quarterback Drake McDaniel and his counterpart, Heritage's Kam Burns, can then find receivers in the open field. The highlights are always in abundance. This one comes down to which team can get stops in the most important moments. 
RECORDS: Radford 8-3. Appomattox 9-1. 
LAST WEEK: Radford defeated Floyd County 47-27. Appomattox flew over Gretna 40-14. 
FACTS: Appomattox crushed Radford 41-12 to start the playoffs during the pandemic-altered spring season, but Raiders coach Doug Smith sees a more athletic group than the one his squad bounced seven months ago. The Bobcats have four or five playmakers who can hurt opposing defenses, but starting linebacker and WMI commit Tyrel Dobson reportedly has been sidelined with a knee injury. Appomattox quarterback Tre Lawing (850 passing yards, 13 passing TDs, 407 rushing yards, 14 rushing TDs) has played through a shoulder injury that will require surgery when the season is complete, and the senior is pivotal to the Raiders' success. "He's been a warrior," Smith said. "He's playing with some pain, but he doesn't talk about it." Radford also has to contend with running back and corner Jonathan Pennix, who holds multiple Division I offers. He leads ACHS with 772 rushing yards on 51 carries (for a whopping 15.1 yards per tote) and has scored 12 times. JaQuan Walker's work at running back gives Appomattox a three-headed monster that will be difficult for the Bobcats to contain. Appomattox won with ease last week, but Gretna kept things close in the first half. Smith hopes that was a product of his team having a bye during the last week of the regular season and that it'll be back to form this week. Radford alternates between two QBs, Marcell Baylor and Landen Clark, and one moves out to receiver when the other takes on signal-caller duties. The duo has combined for 1,453 passing yards and 20 TDs this season. Radford reminds Smith of the 2015 Richlands squad Appomattox defeated by six points in the region finals before going on to capture its first state title. "Fast athletes and a quarterback that can extend drives," Smith said. "So you better bring your 'A' game, because they can put some points on the board real quick."
Broadway at Liberty Christian
RECORDS: Broadway 7-4. LCA 10-0. 
LAST WEEK: Broadway defeated Turner Ashby 22-7. LCA waxed Wilson Memorial 56-7. 
FACTS: Broadway, in the playoffs for the first time since 2014, doesn't have much to lose, while Liberty Christian has quite a bit on the line, including a perfect record and a spot in the region championship for the second straight year. The Bulldogs showcase talent all over the field. There's UVa commit Davis Lane, the QB who has completed 63.4% of his passes for 1,136 yards and 13 touchdowns. There are the complementary brothers in the backfield, Gideon and Caleb Davidson, who've combined for 1,591 yards and 28 rushing touchdowns. And there's Jaylin Belford, a threat as a rusher, receiver and returner who has more than 1,100 yards of total offense. All that makes LCA, which averages 48 points per game while allowing 14, the obvious favorite in this matchup of the No. 1 seed Bulldogs and No. 5 Gobblers. Broadway is riding its own momentum after toppling No. 4 Turner Ashby in a rematch of a regular-season game the Gobblers lost by a touchdown. Broadway features the Valley District's leading rusher in Cameron Showalter, who has 1,464 yards and 21 scores. QB Landen Stuhlmiller enters with 1,160 passing yards and eight TDs through the air. The district's player of the year is a threat with his legs, too, at 634 yards rushing and nine more scores. Whether Broadway's offensive line can hold up against the hulking LCA defenders in the trenches — including Zach Rice, a five-star commit as an offensive tackle to UNC — to give Stuhlmiller and Showalter time and space to work is the first test. Picking up early stops against an LCA team that scores touchdowns in bunches in the first couple quarters is also key for Broadway to have a chance at the upset.