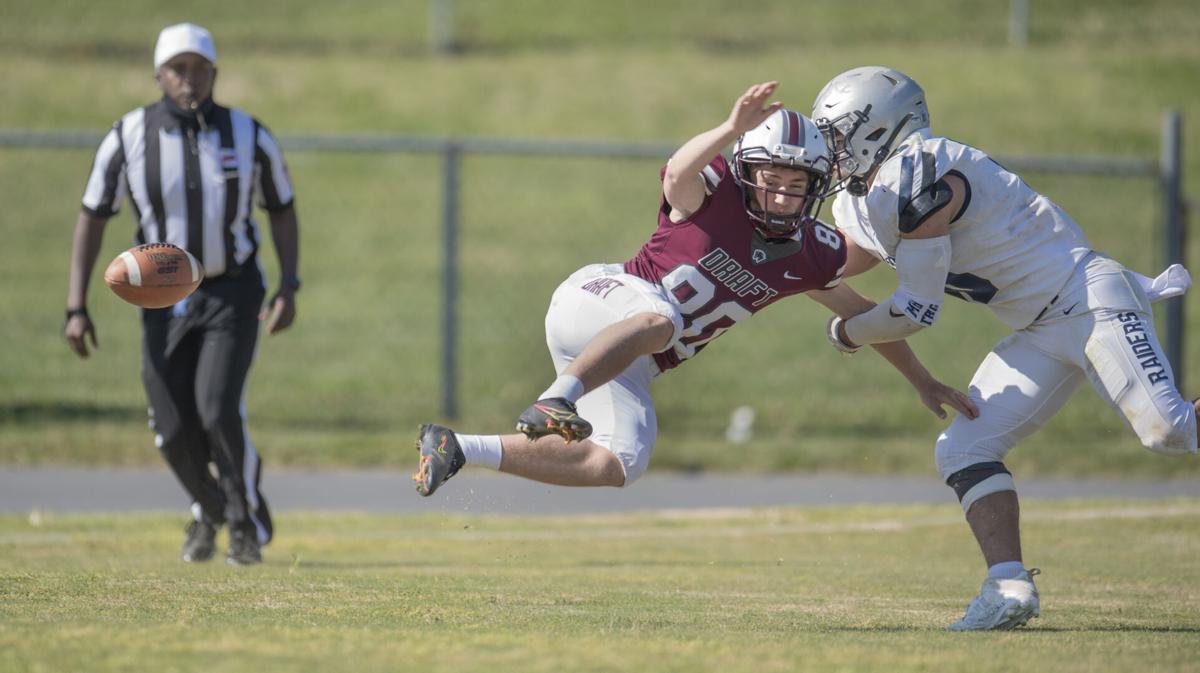 STUARTS DRAFT — There were many game-defining moments for Appomattox in Saturday's thrilling Class 2 state championship that ended in a 48-41 ACHS victory over Stuarts Draft. One of those important plays occurred early in the fourth quarter. 
The Raiders (10-0) had watched their 18-point lead shrink to just three in a wild third quarter that featured 42 total points. And Stuarts Draft ended the third frame by scoring 15 unanswered points and suddenly trailed 41-38. To make matters worse, Appomattox was forced to punt from deep in its own territory, meaning a short field was likely in the making for the Cougars (8-2). 
But senior Bronson Williams delivered a booming kick from the 13-yard line that caught plenty of air and then seemed to roll for an eternity. The ball settled at Draft's own 17-yard line for a 70-yard punt. 
The Cougars then went 3-and-out and were forced to punt. But the snap flew too high for kicker Bryce Dennison, who fumbled it in the end zone. Appomattox senior Tez Booker recovered it for the touchdown and Appomattox took a 48-38 lead after the extra point by Tye Robertson (6 of 7 PATs). 
"We call him Bigfoot," Raiders quarterback Tre Lawing said of the 6-foot-1, 240-pound Williams, also a lineman and tight end. 
Making history
In guiding his team to the state title, interim head coach Stephen Castello may have accomplished a feat no other coach has in Virginia High School League history. 
This newspaper reached out to high school historians, coaches and longtime reporters this week. None could recall a interim coach winning a state football title. 
Castello, Appomattox's defensive coordinator, approached this year like any other. 
"It's been a challenge," he said of this pandemic-altered season in which head coach Doug Smith was unable to attend games because of a multiple myeloma diagnosis and treatments. "I don't feel any different than any of the other games I've coached in because I feel like, hey, I put in the same amount of work, I care about the kids on this team just as much as any other."
Making the most of a few opportunities
In high school football games, one team typically runs 50 to 60 plays. Appomattox ran just 35 plays Saturday and still managed to score 48 points and pile up 320 yards of total offense.
That stat shows how efficient Appomattox was on offense. The Raiders only punted three times on the day and scored on their first three drives. Defense, of course, played a huge role in those fewer offensive opportunities. A 40-yard fumble return by Jonathan Pennix with 8:46 remaining in the third quarter gave the Raiders a 41-23 lead, and Booker's fumble return ended up being a difference maker. 
Stuarts Draft, meanwhile, ran a whopping 70 plays (58 of them on the ground) and had 370 yards of total offense. 
Drafting a plan for success
Despite being down 14-0 in the first quarter and trailing by 18 in the third, Stuarts Draft gave Appomattox all it could handle. The Cougars made glaring and costly mistakes that Appomattox pounced on in the 2019 state championship; but in this one, they were more composed and determined. 
"This team, they're not quitters," Draft coach Nathan Floyd said. "Probably the most competitive group I've been around. … They stayed faithful to each other, they trusted us as coaches to put them in the right spot. We battled back after getting ourselves in a hole, and I'm super proud of the what they accomplished this year. The day didn't finish the way we wanted it, but these young men left everything on the field. And I think that's all a good coach should ask for."
Keep your head up
Appomattox survived the Cougars' 22-point third-quarter onslaught in part by staying patient. And when the game could have swung either way in the decisive final minutes, the Raiders once again showed resolve. Both attributes are themes that have carried over from year to year since 2015. 
"It was very crazy," Williams said of the game. "Coach always tells us 'Keep your head up, you can get right back at it.' And that's what we did. So I knew in the end whoever fights the most is gonna win this thing."
And as Lawing put it: "I just was patient and let the game come to me."
The reign continues
In addition to claiming its fifth crown in six years and earning back-to-back titles Saturday, Appomattox upped its winning streak to 22 games. As active streaks go, that's second only to Riverheads, which has won 36 in a row and claimed its league-best fifth straight title Saturday. Appomattox also had a 34-game winning streak that ran from 2015 and through the first two games of 2017.