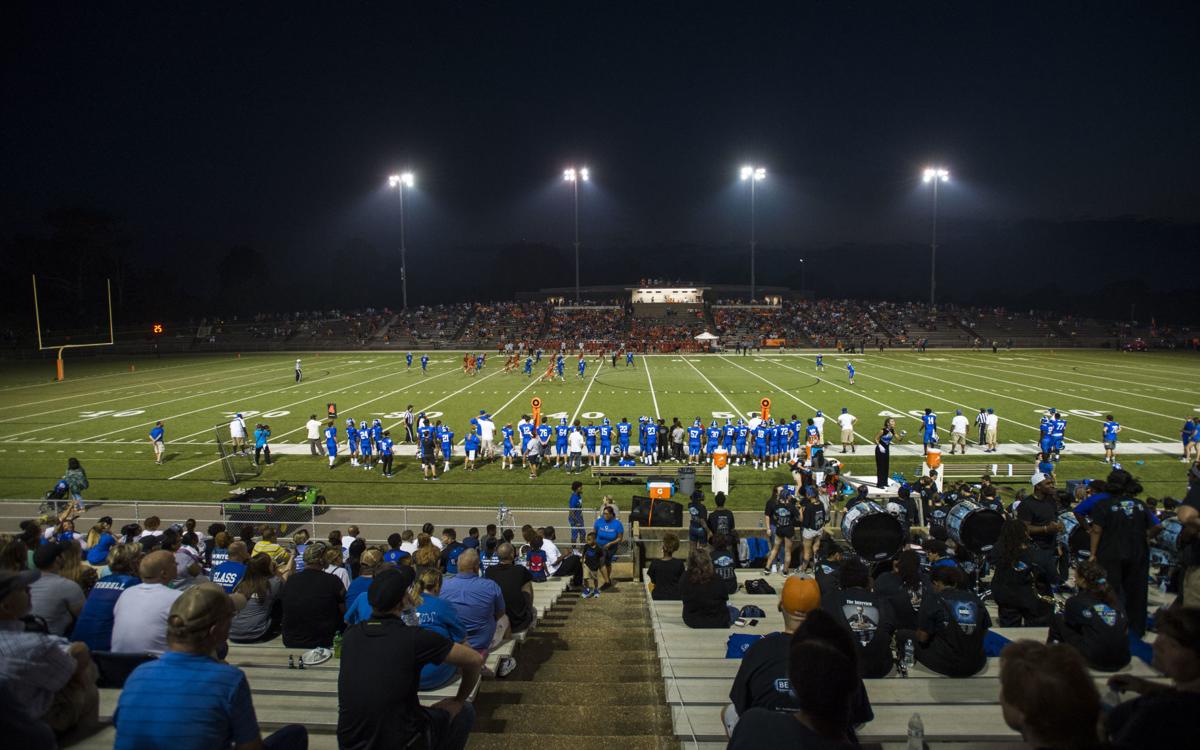 When Heritage and E.C. Glass clashed last November in a high-profile Jug Bowl football game that had playoff implications for both teams, City Stadium was jam-packed.
But for people who couldn't attend, Lynchburg City Schools offered a live stream through YouTube. It garnered more than 6,000 views.
Now, because of the pandemic and state restrictions on attendance at outdoor and indoor events, area school divisions are considering streaming athletic events during the 2020-21 school year.
Several area divisions are in the early stages of planning how they will provide viewing opportunities for fans.
Bedford County School officials will discuss streaming options for its three high schools — Jefferson Forest, Liberty and Staunton River — in a meeting scheduled for today. E.C. Glass and Heritage are both working on plans to stream games. At Amherst County High, streaming has been available the last couple years for home football and some basketball contests. Appomattox also has documented its historic football seasons in recent years by streaming games on Facebook, especially in the playoffs.
But area athletic directors and division officials will, ideally, expand streaming efforts for 2020-21. On Friday afternoon, Gov. Ralph Northam limited inside and outdoor gatherings to 25 people to try to combat the spread of COVID-19, restrictions that include spectators at high school sports events.
School officials are currently weighing their options about who, if anyone, will be allowed to attend games when winter sports begin in late December. There's a lot to consider, and plans can change quickly.
Last week, for instance, athletic directors in the Seminole and Dogwood districts met to consider a path forward under the state's 250-person attendance restrictions, then had to scrap those plans Friday after the new guidelines were issued.
Their athletic budgets have been affected by the pandemic, and they've lost out on gate money for spring and fall seasons (although fall sports will be played in the spring this school year, and it's unknown if more fans will be allowed by then). Now schools are set to lose out on money earned at winter contests, a significant chunk considering gymnasiums are typically packed for basketball games and volleyball matches.
A streaming platform would at least let schools reach their fan base and allow parents to watch their teenagers.
"It's such a fluid situation it's hard to make any plans," Jefferson Forest athletic director Jedd Zaring said this week.
Zaring has been talking about streaming options since the pandemic began. There are challenges, though. Streaming football games, Zaring said, may require an ethernet connection, which does not currently exist at Sabre Stadium. It's just one of the challenges facing school officials these days.
"These are difficult times, and all of us just want to do the best we can to get their seasons in," Zaring said.
Liberty High athletic director Lori Mattson understands streaming may not be available to some families who live in more rural locations.
"But the challenges will be for us to do the best we can to provide those opportunities," she said. "Maybe [they won't be able to] watch live, but maybe they can in some other way. It's not an ideal situation, but we want to do our best to provide the best experience for our families."
It's not clear yet what streaming platform school divisions may chose. YouTube, of course, is easily accessible, and links to the 2019 Jug Bowl game and basketball games between Heritage and Glass were listed on Facebook and the LCS website. The football broadcast was especially impressive, with different angles and clear, up-close view of the action.
Schools also could go through the National Federation of State High School Association's NHFS Network, which offers subscription plans of $69.99 per year or $10.99 per month.
E.C. Glass athletic director Elizabeth Masencup said the school hasn't made any concrete decisions about streaming games but is looking into its options.
"We're looking into prices and getting ideas," she said. "Where we have WiFi and where we don't plays a role."
For instance, streaming basketball games would be easier than streaming sports like baseball, softball or tennis, venues that typically don't offer WiFi capabilities.
Get in the game with our Prep Sports Newsletter
Sent weekly directly to your inbox!