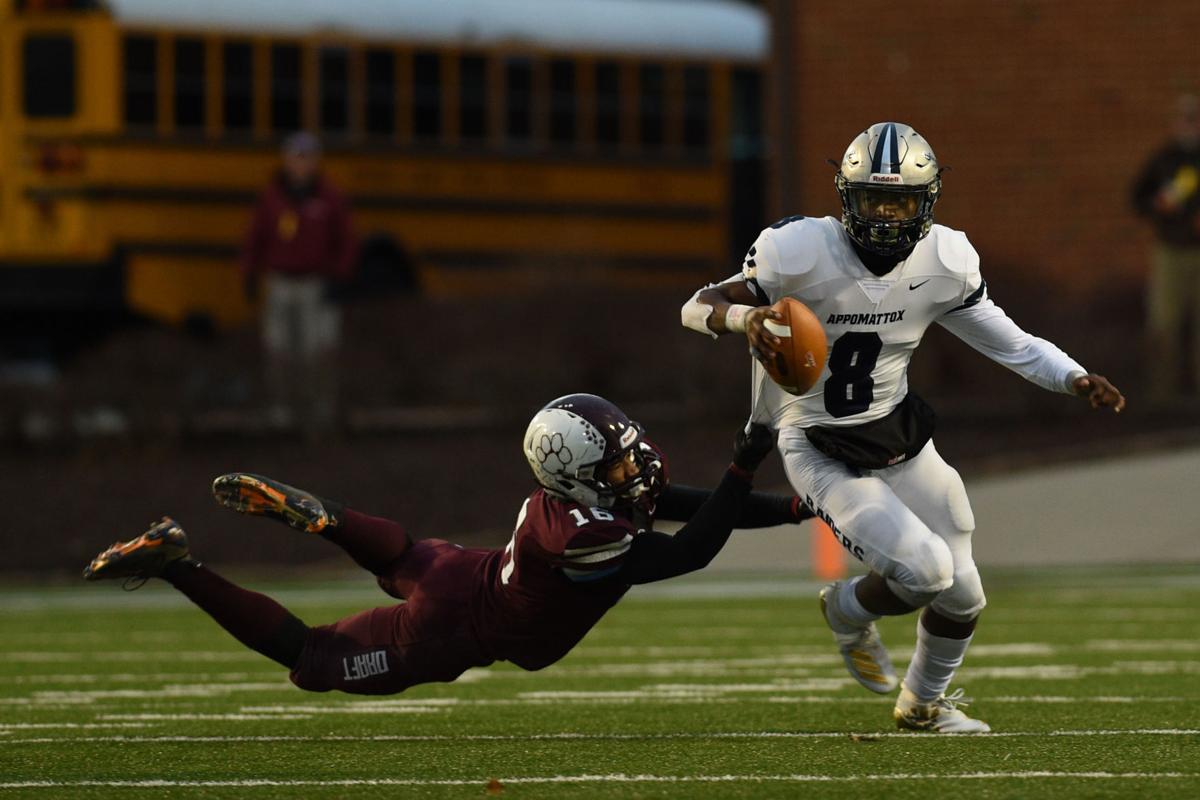 Chris Watts' Liberty High School football team is scheduled to begin workouts in Bedford on Monday morning after a long layoff that has put players across the country behind in their athletic development.
That same morning, we'll find out if there's even a reason to hold football practices at all.
In a 9 a.m. meeting, the Virginia High School League, via video conferencing platform Zoom, likely will announce its plans for how sports and activities will proceed for the 2020-21 school year, choosing a route from three models its executive committee suggested earlier this month.
After the meeting, VHSL Executive Director Billy Haun will take questions from reporters in a virtual press conference.
There isn't one magic model, of course, that will make everyone across the state happy.
Model 1 cuts out football and volleyball entirely. Model 2 switches the fall and spring seasons and eliminates lacrosse and soccer, sports deemed high-risk. And Model 3 leaves all sports in their aligned seasons, with a modified start and finish calendar for winter, fall and spring sports — with winter and fall activities flipped in the timeline.
That last model is overwhelmingly the favorite across the state, VHSL Communications Director Mike McCall said, based off feedback the league has received from school administrators, coaches and parents.
"It gives more opportunities for student-athletes," McCall said about why people tend to support the third model.
Under that third model, in-season football practice would begin Feb. 15 and the first date for games would be March 1. Teams would play a six- or seven-game schedule, with the possibility of a bowl game that could serve as a regional title of sorts. There will be no state championship games.
Teams were allowed to begin meeting earlier this month in what are considered out-of-season practices, with social distancing and other guidelines in place.
In addition to the three options, McCall said the league could discuss plenty of other football-specific ideas Monday, such as if or when teams can begin using a football at practice, how they can go about introducing equipment into sessions and scheduling details for the altered season that may or may not occur.
Regardless of what model the VHSL chooses, play will look drastically different this year.
"There's definitely a big difference between what's gonna happen and what I want," said Watts, whose team will take part in three workout sessions Monday. "But I understand the climate of the country right now."
The longtime coach has tried to instill one idea into his players' heads the last few months.
"I've been telling the kids all spring and summer, 'Be prepared for everything,' because you just don't know. We've laid all the scenarios out for months now, what could happen, and I've been very clear about what the possibilities are."
Under the third model, the final day of the football games could be played would be May 1. Teams would then make a quick turnaround for the following fall season, providing it is safe to do so.
Questions abound ahead of Monday's meeting. Can Virginia pull off three seasons of high school sports, or will entire schools have to shut down their athletic programs if athletes begin testing positive for the coronavirus? How can school districts assure parents and athletes all cleaning precautions are being taken? Will athletic departments survive if football, a cash cow at most schools, isn't played? Will transportation and close contact during games put athletes at risk?
"We're flying the plane and building it at the same time," E.C. Glass football coach Jeff Woody said when asked about the possibility of playing sports this coming school year.
Woody's Hilltoppers have been practicing for roughly two weeks, spreading out on the school's turf field.
"Football is about family. It's about closeness, and that's gone for the time being," Woody said. "You've got to get creative about how you can keep kids motivated and keep that chemistry. And that chemistry is missing in the world in general right now. The world is lacking chemistry."
JV and varsity players have been separated for now, with each group practicing two days a week. Footballs aren't allowed. Neither are sleds or blocking dummies. Instead, Glass has been going through drills, strength training, outside weight lifting and conditioning.
"I wanna get out there and throw the football and play," Woody said. "Everybody wants that. But at the same time, nobody knows exactly what's gonna happen if we do that."
Across town at Heritage, the Pioneers have been spreading out across the turf football practice field, baseball field and rotating between weight lifting stations, one indoor and one outdoor that's already earned a nickname, Venice Beach, named after famous lifting platforms in Los Angeles.
The coronavirus has left people at all levels of sports trying to figure out what the future will look like. Area football coaches like HHS's Brad Bradley are no different.
"It's gonna change sports in Virginia, how this is handled," Bradley said, referring to a league response to the pandemic. "[Football] is already under attack because of concussions. Now with COVID, parents are gonna be more concerned. I'm hoping [the sport] will recover from it, but the longer it goes on, it's gonna be harder to recover from it 100%."
Even without the prospect of a state championship, which Heritage won in 2018, Bradley still is excited about the possibilities of a new season. His Pioneers would have a chance to win their fourth straight Seminole District title and possibly a region bowl game, if that option is chosen.
"I think the VHSL only has one option, and that's option three, to get the kids to play all the sports they want to play," he said.
At Appomattox, coach Doug Smith's squad is practicing three days a week, with morning, afternoon or evening sessions available. The Raiders go from station to station, too, trying to ensure social distancing. That, coupled with attempting to keep players motivated amid the uncertainty while still preparing for a potential season that would begin next calendar year, is challenging.
"It's a lot more work than it's ever been," Smith said.
Like Watts, Woody and Bradley, Smith thinks the league's Model 3 is the best option for return to play.
"But we've got to do what seems to be best and safest, not just for our kids, but kids in higher populated areas," he added.
An entire year without high school sports, he believes, would be detrimental to area athletes. "I think it's a vital part of a lot of kids' lives," Smith said. "It's important for communication skills, for social development, the way they interact with adults."
So Appomattox, like other area schools, will be listening to see what the VHSL decides Monday.
"Kind of like soldiers," Smith said of his squad. "You've gotta be ready to go to war when you're called."
Ben Cates covers high school sports for The News & Advance. Reach him at (434) 385-5527.
Ben Cates covers high school sports for The News & Advance. Reach him at (434) 385-5527. 
Be the first to know
Get local news delivered to your inbox!