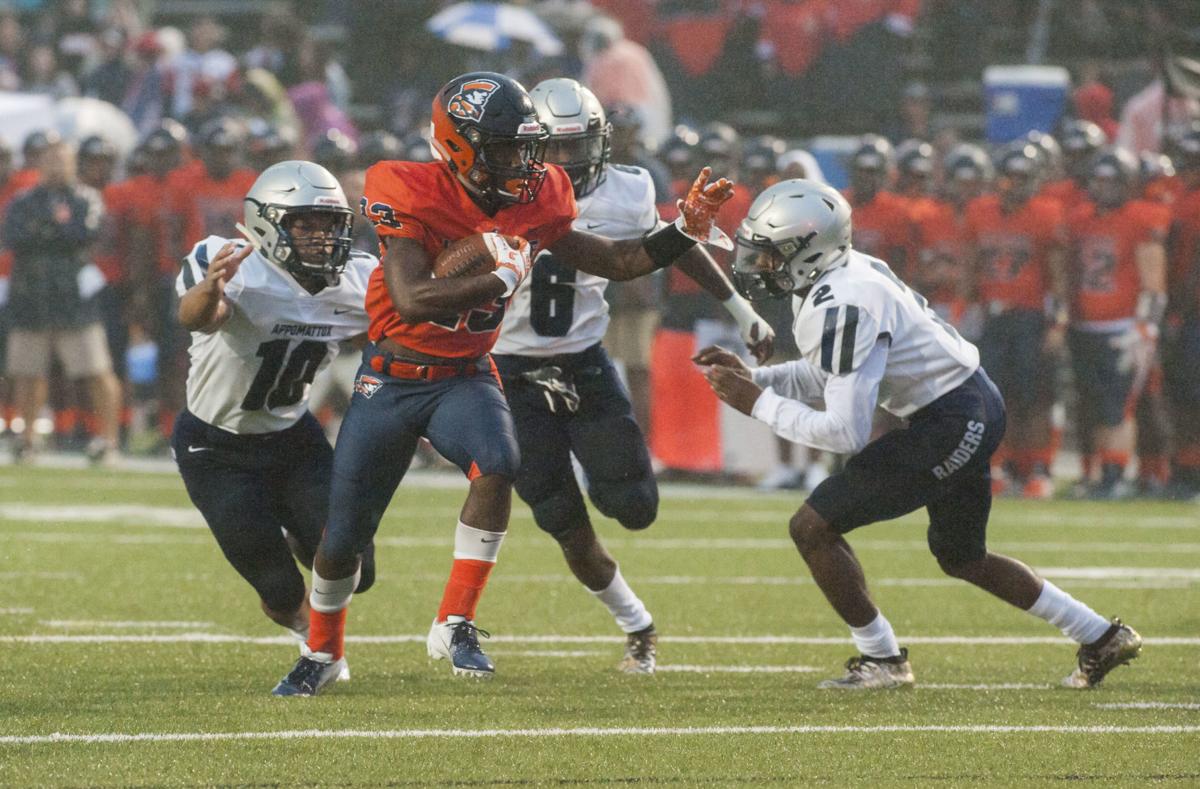 Coaches at Heritage and E.C. Glass may not come out and say it, but these are good times to play for either school.
The Hilltoppers and Pioneers are the area's strongest teams. Their rosters are full of talented, experienced players. Lynchburg City, because of the town's only two varsity football programs, is experiencing a football boom. Glass and Heritage have never both been state powerhouses at the same time until the last couple seasons.
But for many other programs in the Lynchburg area, the 2019 season is a struggle. For many of them, rosters are smaller. Players are less experienced. Some teams are filled with younger players trying to adjust to the varsity level. Others are going through periods of transition, whether with new coaching staffs or new offenses being implemented to try to stop the bleeding.
All that has worked together to form what, for area football, is an odd year. Seminole District teams have gone a combined 11-11 in against non-district opponents this year.
The eight Seminole squads also have combined for 18 wins and 18 losses through the first five weeks of the season. Heritage and Glass have combined for eight of those victories.
"Football is down everywhere," Glass coach Jeff Woody said. "It's becoming like college football where you've got three or four teams that are top-tier and a couple others trying to get into that top tier."
According to the latest study conducted by the National Federation of State High School Associations, football participation declined by 2%, or 20,000 athletes, in 2017. It's part of a consistent pattern; football participation, the NFHS has found, is currently in a decade-long decline.
Those types of numbers have caused some local coaches to change the way they attract players. Liberty football coach Chris Watts, whose program has been experiencing a steady decline in participation for several years, developed a new strategy prior to the 2018 season. He compiled a list of 26 possible players who he thought could contribute to the program. Then Watts went door to door in Bedford, talking to parents and prospective athletes. Of the teenagers he talked to, only one joined the team.
"The kids I'm going after, they're not doing anything else, either," Watts said. "We've always gotten these tough kids who are willing to work hard. … But a lot less kids are willing to do that now."
When Watts first took over at the rural school in 2002, he developed a slogan: Keep the ball rolling.
"The analogy was if you have an 800-pound concrete ball and you work really hard to get it rolling, it'll keep going," Watts said. "But once you stop, it's really hard to get it rolling again."
Right now, the coach added, it's difficult to convince prospective players to believe they'll find success on the gridiron. Instead, rec league basketball is the rave in Bedford.
"I don't know about some of the other teams struggling," Watts noted, "but the bottom line is there's a definite formula for winning at football. And if you can get your kids to buy into that formula, you're gonna have success. It's been a struggle the last three or four years. You literally win the games in the weight room and the offseason."
Heritage and Glass know all about that. VHSL teams are allowed to practice year-round now, and the two programs have taken advantage of that, developing drills and sessions in the offseason and holding athletes accountable if they miss a certain number of workouts.
"I feel like we've got kids dialed in right now on the process," Heritage coach Brad Bradley said. "And the process has little to do with Friday nights."
Heritage and Glass have suffered through tough times, too, of course. In 2015, Bradley's bunch went a disappointing 4-7.
"We sat the seniors who didn't have leadership and started sophomores and freshmen that were bought in," Bradley said. "It hurt us that year, but those experiences with those younger kids got us through the next four years. Those ids in '15 set the standard for what we're doing in 2019.
"To me, and this is where I think I've grown as a coach, it's not about the moment. It's not even about the year so much. It's about what's gonna make your program better years down the road."
At some schools, participation is down at the varsity and JV levels. Appomattox, for instance, has seen a sudden drop in the number of players on the varsity level. And the JV numbers are in the high teens. The Raiders, coach Doug Smith said recently, see more future varsity talent in current seventh and eighth graders. But as long as at least 12 players are available, Smith said, Appomattox will continue to have a JV team.
Other schools, like Amherst and Jefferson Forest, recently underwent head coaching changes and still are developing offensive and defensive schemes in hopes that future years will be brighter.
Brookville, out to an uncharacteristic 1-3 start, currently sports roughly 70 players between varsity and JV. Head coach Jon Meeks said that's a slight drop from the 80 or more players he usually has. Meeks prefers to have about 20 players per grade.
"But one small class kind of kills those numbers," he said.
Brookville's problems aren't because of participation, though. The Bees currently feature a young lineup, something some other local teams are dealing with, too.
"I tell them, 'Stay the course, keep your head up,'" Meeks said.
Woody said he's witnessed a trend moving away from smashmouth football in recent years. Part of that, he explained, has to do with concussions and the scientific research that has highlighted the dangers of head injuries in the sport.
"Football is that old Romanesque, gladiatorial thing that everybody used to go watch because they wanted to see it," Woody said, "but now our game, with the rules that it has and the news of how we play the game, concussions and the end-all result, the news of the game keeps parents from wanting their kids to play football. … If they don't play football at an early age, when are they gonna start loving it, except on the couch with dad on Saturday and Sunday?"
Participation isn't a problem at Glass right now. Both the varsity and the JV rosters have ballooned in recent years.
But the stands aren't always packed.
"I thoroughly love the idea of the whole town shutting down to come see their boys," Woody said. "But football is not as important as it used to be. It's 2019, and there are plenty of things for people to do other than football."
Bradley, is his eighth seasons at Heritage, said he's never seen the Seminole struggle like it has so far this season. But he holds to this philosophy: That good things happen once players start believing in the program. He uses the school's 2018 state title as an example.
"Once you get kids buying in to your culture an your expectations, then it really doesn't matter what kind of talent you have," he said. "We didn't win with the best talent last year."
In Bedford, Watts said he's already exploring ways to make the offseason different in hopes of getting more players to participate.
"You've got to adapt or die," he said.
A larger team means more rest for players, who currently play on offense, defense and special teams for LHS. And more rest means more victories. Heritage and Glass, for instance, have very few two-way players.
Liberty, with its roughly 750 students, is one of the smallest Class 3 schools in the VHSL. That doesn't matter; Watts knows his teams can still compete.
"There're enough kids to be able to win football games, if I could get them to play," he said. "But I can't."
Ben Cates covers high school sports for The News & Advance. Reach him at (434) 385-5527. 
Be the first to know
Get local news delivered to your inbox!