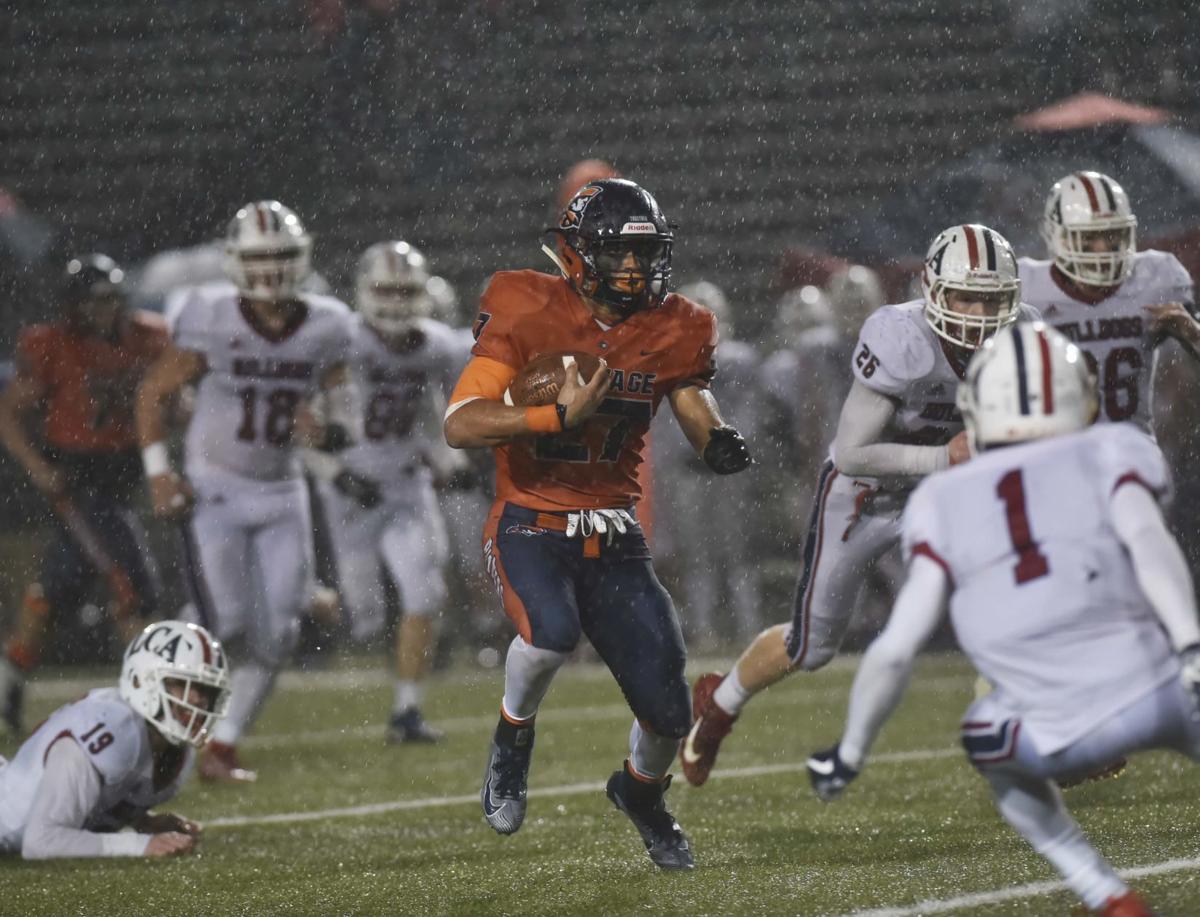 The football team at Heritage High School will go for its third straight Region 3C title this weekend.
Standing in its way is Spotswood, the undefeated and second-seeded heavyweight from Rockingham County that has been on a collision course with the Lynchburg squad all season.
Armed with nearly two dozen seniors, a lights-out defense and a few top-notch offensive weapons, the Trailblazers (12-0) have bulldozed opponents all season.
They limit teams to just nine points and 186 yards of total offense per game.
Here are a few other ways Spotswood has hurt the opposition. Running back Ethan Barnhart enters with 2,688 rushing yards and 31 touchdowns, averaging 11.4 yards per carry and 224 yards per game. Quarterback Ryan High has completed 62.7% of his passes (101 of 161), thrown 21 TDs and averages 11.7 yards per completion.
Then there's the defense, which features disciplined, hard-to-move players in the 6-foot-2 to 6-4 range.
But this is the postseason, where Heritage (11-1) has enjoyed a tremendous amount of success under coach Brad Bradley, especially the last three seasons. So the Pioneers, who have won 13 of their last 15 playoff games, are ready for the challenge.
"We don't want to be second or third, we want to be first," Bradley said this week as his team continued working toward its quest to play in another state title game next month. "That's just our mindset. That's the way we work, that's the way our coaching staff works, that's the way our kids work and that's what our expectations are for this program, and will continue to be as long as I'm here."
Heritage reached this week's region championship by trouncing Western Albemarle in the first round and then upending Liberty Christian in chilly, rainy conditions last weekend.
Tonight's game represents a quicker-than-normal turnaround. Still, winning in tough conditions last week seemed to give the Pioneers a little extra life.
"We needed that type of game," wide receiver Kyron Thomas said. "And I'm not saying this on a big-headed level, but it just focuses us for the rest of the playoffs."
Thomas, who leads the HHS receiving corps with 38 catches for 774 yards and seven touchdowns, remembers starting in 2017 when his team shredded Spotswood 55-14 in the second round of the playoffs.
"They're a way better team than in '17," Thomas said. "We haven't really gone against somebody like this yet."
Spotswood, like Heritage, prefers to keep the ball on the ground.
With Barnhart taking the bulk of carries — 235 to be exact, more than half of the team's totes this season — the 'Blazers typically run in tight formations. But they also can switch in a hurry into the spread formation for High to air it out.
Barnhart, the Valley District offensive player of the year, "likes to stick his foot in the ground, make one move and go," Bradley said.
"Other than [Jefferson Forest's Keenan] Cupit, he's the best running back we've seen all year."
Spotswood also showcases linebacker Ben Conahan, the Valley defender of the year who enters this one with 87 total tackles.
"They're good up front, they're physical and they can pound the rock," HHS outside linebacker Spencer Goolsby said. "We've just got to do our job and have heart out there."
Spotswood should have its hands full, too. Heritage's defense allows 14 points per game and has held opponents to seven points in each of its two playoff games.
But HHS' greatest advantage in this one might be on the offensive side. Spotswood, unlike the Pioneers, plays a lot of players both ways, and the Heritage offense requires opposing defenses to stay fresh.
So look for running backs KJ Vaughan and Krystian Rivera to try to wear down the Trailblazers.
Vaughan, the 5-7, 239-pound senior, is coming off a 227-yard performance against LCA.
He now sports 1,471 rushing yards and is one of the leading rushers in the Lynchburg area.
Rivera (507 rushing yards) provides the counter to Vaughan's power, giving HHS quickness at the position.
"It's kind of like inside-outside, like a boom-bang," Bradley said. "They've got to deal with that bowling ball [Vaughan] coming at them over and over and all of the sudden they get a little bit of lightning coming at them. And so Krystian is a good change-up to the speed of the game."
Sophomore quarterback Kameron Burns enters with 1,454 passing yards.
Heritage right guard Mike Williams, part of the offensive line that pushes HHS forward, said his team still has plenty of room for improvement. They'll face a 4-3 defense similar to the one Heritage runs tonight.
"We just need to come to play, stay focused and be ready for a war," Williams said.
Ben Cates covers high school sports for The News & Advance. Reach him at (434) 385-5527.
Ben Cates covers high school sports for The News & Advance. Reach him at (434) 385-5527. 
Be the first to know
Get local news delivered to your inbox!