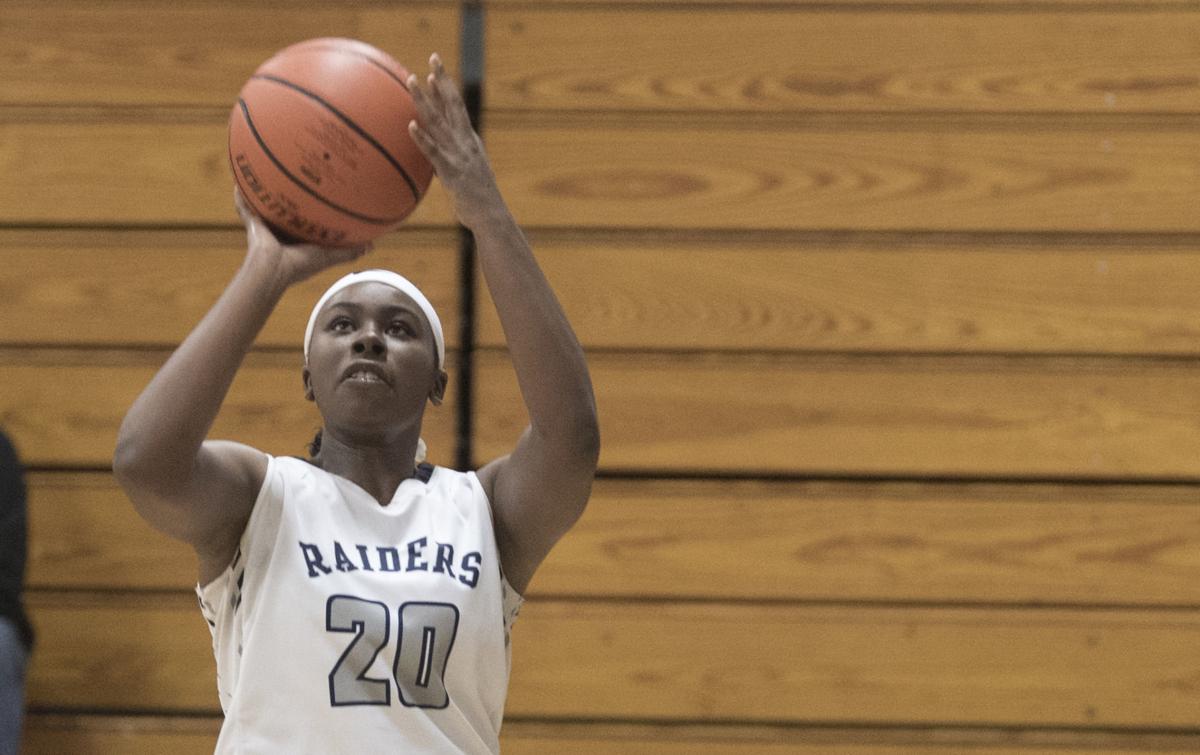 When Shaniya Johnson was just out of eighth grade, she'd work with her coach in the Appomattox gym putting up shots.
Back then, the practice was a necessity. Johnson wasn't releasing jumpers to get familiar with the motion or to improve her percentage. Those sessions were reserved for correcting, not just tweaking, her form.
As a soon-to-be high schooler, Johnson was still pushing the ball at the basket.
"She was still shooting two-handed," Appomattox coach Tracie Hayes recalled. So she helped Johnson start using one hand as support and the other to do all the work.
Johnson doesn't really remember those days. But you can't really blame her. Those moments must seem like a lifetime ago.
Between then and now, the senior standout certainly has fixed her shooting form and put together plenty of memorable performances. Plenty of double-figure scoring games, double-figure rebounding games and double-doubles, along with other elite showings in which her defensive prowess showed up.
"She is a very versatile player," Hayes said of Johnson, who's drawn interest from multiple schools, including Division I Longwood. "She's extremely athletic. Very talented. I've coached a lot of [college] players, and she ranks right on up there as one of the top players I've had."
Johnson's path to success in the Dogwood District started in ninth grade, when she was one of the younger players to make the Raiders' varsity roster. The points — the most obvious sign of her offensive abilities — started piling up quickly.
By her junior year, she'd alreadyeclipsed 700 career points, and heading into her senior campaign, she knew exactly what she'd need to do to reach the pinnacle, 1,000 points.
Johnson had to score 280 points to get there, and immediately got to work this year, steadily chipping away by averaging almost 18 points per game. Finally, at the beginning of this month, Johnson's time had come.
Despite her teammates trying to keep things a little quiet, senior forward CC Bryant said, everyone knew she was close. Hayes was well aware, and Johnson's family was prepared, making sure a balloon and a cake — vanilla, adorned with photos of Johnson playing the sport she loves — were standing by.
And Johnson knew it, too. She just needed two points. In a homegame against Dan River, she knocked down two free throws to do it.
"I was really nervous," Johnson said. "The whole time I was thinking, if I make one, don't miss the second one."
When the second shot fell through the net, though, the nerves disappeared, and the weight of her feat started to set in.
"It's a huge accomplishment," she said. "Definitely something I can look back on and always remember."
For Johnson, a two-sport athlete who also plays shortstop and third base for the Raiders softball team, the moment, although somewhat fleeting with nearly an entire game left to play, gave her a chance to remember everything it took to get there.
It took extra work in the offseason, additional focus on ball handling skills, learning to create scoring opportunities against teams that have come to know her well — and double- or triple-team her as a result.
There were other challenges, too, like the broken nose she suffered in the offseason at a basketball camp, which required surgery.
That obstacle was scary, Johnson admitted, but once she was over it, there wasn't any stopping her. Now, she slashes through the lane without fear, and does it with the hope that she can get to the free-throw line, where she also thrives.
A year ago, she broke the program record for most free throws attempted in a season, tallying 130 total attempts. This year, with two regular-season games left to play, she's already broken her own mark — by a wide margin, sitting at 210 now. She's at a program-record 450-plus attempts in her career.
Bryant has seen Johnson's evolution as a basketball player during her high school career, which now is nearing its end. Previously, Bryant said, Johnson lacked some confidence. Now, "she's the most confident one on the court," Bryant added. When Johnson steps on the court, "it's like a switch is flipped."
The scoring ability is the obvious result of Johnson's dedication and assurance, but she also is a standout on the glass, where she pulls down around eight rebounds per game.
"She's just got a knack of knowing where to go to get the ball," Hayes said.
Johnson's ball handling has improved, too, Hayes added. But perhaps the most important to the Raiders program is Johnson's humility and personality.
"She is a great role model for the younger players," Hayes said. "She's a team player. Let's say she scores 32 points and we don't win; she's not happy [then], which is great. That's the type of players you want."
Off the court, Johnson strives to do the best in everything she does, Bryant said, and helps lift others up, too.
"She has the biggest heart of any of my friends, of anyone that I know. Her heart is 10 times bigger than her chest," Bryant said of her friend, who is actively involved in her church and is among the top students in her class with a 4.21 GPA. She's completing a dual-enrollment program that also lets her get a degree from Central Virginia Community College.
Johnson is a perfectionist, she admitted, but her teammates and coaches certainly don't mind.
"I haven't ever had children, but I told her mom a long time ago that if I ever had a child, I'd want one like her," Hayes said.
Emily Brown covers the Hillcats, ODAC and high school sports for The News & Advance. Reach her at (434) 385-5529.
Emily Brown covers the Hillcats, ODAC and high school sports for The News & Advance. Reach her at (434) 385-5529.