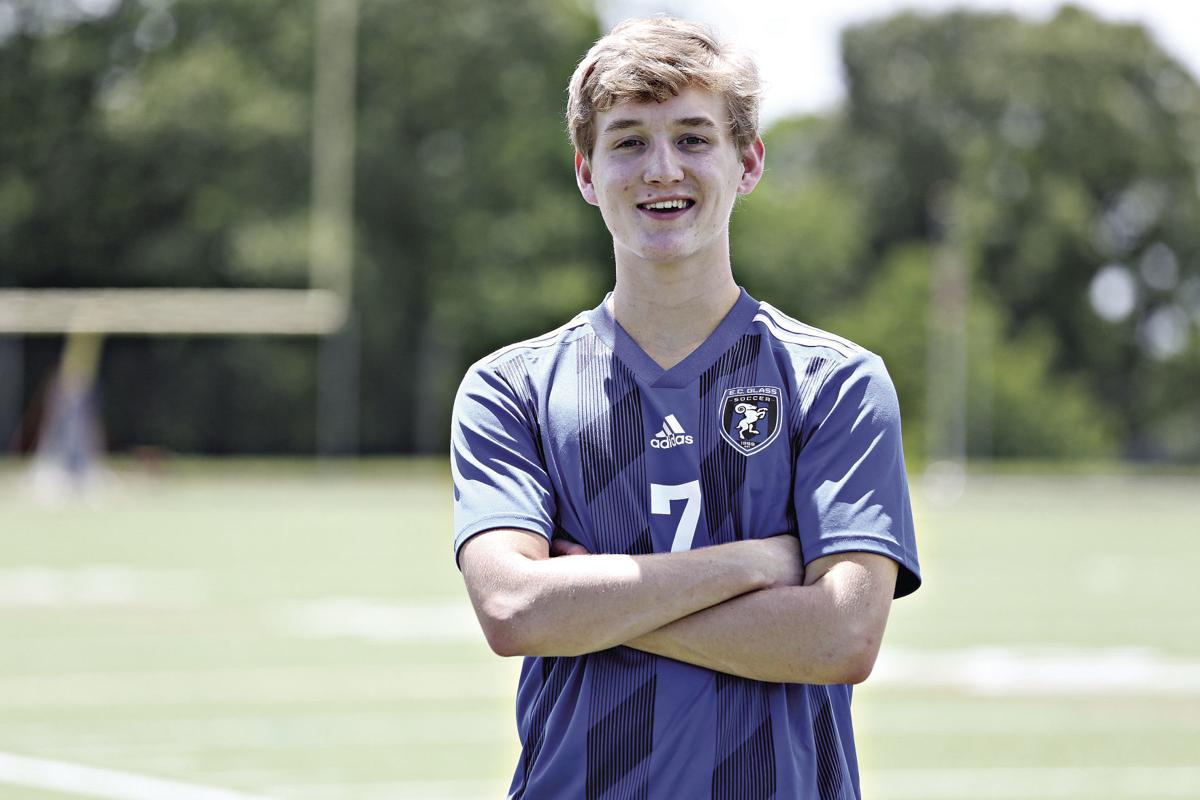 Gavin Leverette's choice in TV shows is based on entertainment factor, of course. But the E.C. Glass senior soccer player has another reason for choosing, in his newfound free time, to indulge in shows like "American Idol" and "The Voice," too.
Those shows, he said, feature competition — the thing his life is devoid of at the moment.
He craves some form of rivalry, and without getting to play with his Glass teammates anymore, against other talented players from the area, Leverette is trying to find some other way to satisfy his competitive spirit.
It makes sense. Soccer, the sport he's played for more than a decade, requires self-motivation if players are to reach a high level. But all the footwork and shooting skills won't mean much if there's not an opponent to dribble around or a goalkeeper to try to beat.
Now, with high school sports shut down because of the coronavirus pandemic, Leverette is missing out on the fight he craves.
"Definitely would have been special to have that last season," he said of the unexpected end to his high school career.
Leverette first began playing soccer when he was 7 years old. The move to join a YMCA team back then was more a result of trying to follow a friend than a passion for the game.
Not long after, though, he saw himself develop as a soccer player, and began falling in love with the sport.
In middle school, soccer turned into more of a year-round activity for Leverette, who joined up with a travel league.
All that work paid off for the forward, a three-year starter for the varsity team at Glass. He was on that upward trajectory heading into this season, too.
A first-team All-Region 4D and first-team All-Seminole District selection a year ago, he looked to be a scoring force this season.
Leverette was a captain on this year's squad, which was poised to play Blacksburg, a fellow Class 4 powerhouse that made it to the state semifinals in 2019, in a scrimmage that was the first event canceled.
The Hilltoppers, he said, had just finished up a morning practice that Friday (on a day off from school) in March and had enjoyed a lunch together before parting ways. They were to meet up again that evening for the exhibition when they heard their match was canceled.
Things spiraled downward from there.
Leverette predicted a successful campaign for him and his teammates. Most of them had been playing together since middle school or earlier, he said. Thanks to a huge contingent of upperclassmen — Leverette was one of 14 seniors on the team — Leverette said the Hilltoppers would be able to compete with and beat the best.
"That was probably the hardest part," he said. "I've been looking forward to this season since seventh or eighth grade. We could've made a run at states this year."
The group was coming off a loss to rival Liberty Christian in last year's Region 4D quarterfinals, so heading into a schedule stacked early with tough opponents, the Hilltoppers were motivated.
Leverette pulled no punches in his assessment of this year's squad. It could be — or as he believes, would be — "the greatest Glass soccer team there's ever been."
Instead of practicing, traveling and playing with his teammates, though, Leverette is putting in work on his own in this age of social distancing as he prepares for his next chapter. Leverette, recruited by a couple of schools, has committed to stay in Lynchburg and play for Division III Randolph College.
Leverette said he still plays soccer every day, though it obviously has a different feel now. He heads over to Randolph occasionally to shoot and plays some against a couple friends from the neighborhood.
Getting touches on the ball and work on other skills has lent some structure to an otherwise uncertain time.
"It's the one thing that's really consistent still," Leverette said.
The soon-to-be college player is trying to make the most of his free time, he said, and is looking for the positives in an otherwise bleak situation.
Leverette is essentially getting an extra spring season of "training" with his new Randolph team, which meets often over Zoom. Getting to know his RC teammates and coach Adam Godwin, as well as what the team aims to do on the field in the fall, is a bright spot.
Otherwise, as he closes the book on his high school career, Leverette tries to remember the good times of the past and hang on to what he believes would have been a successful senior season.
Emily Brown covers the Hillcats, ODAC and high school sports for The News & Advance. Reach her at (434) 385-5529.
Emily Brown covers the Hillcats, ODAC and high school sports for The News & Advance. Reach her at (434) 385-5529. 
Concerned about COVID-19?
Sign up now to get the most recent coronavirus headlines and other important local and national news sent to your email inbox daily.