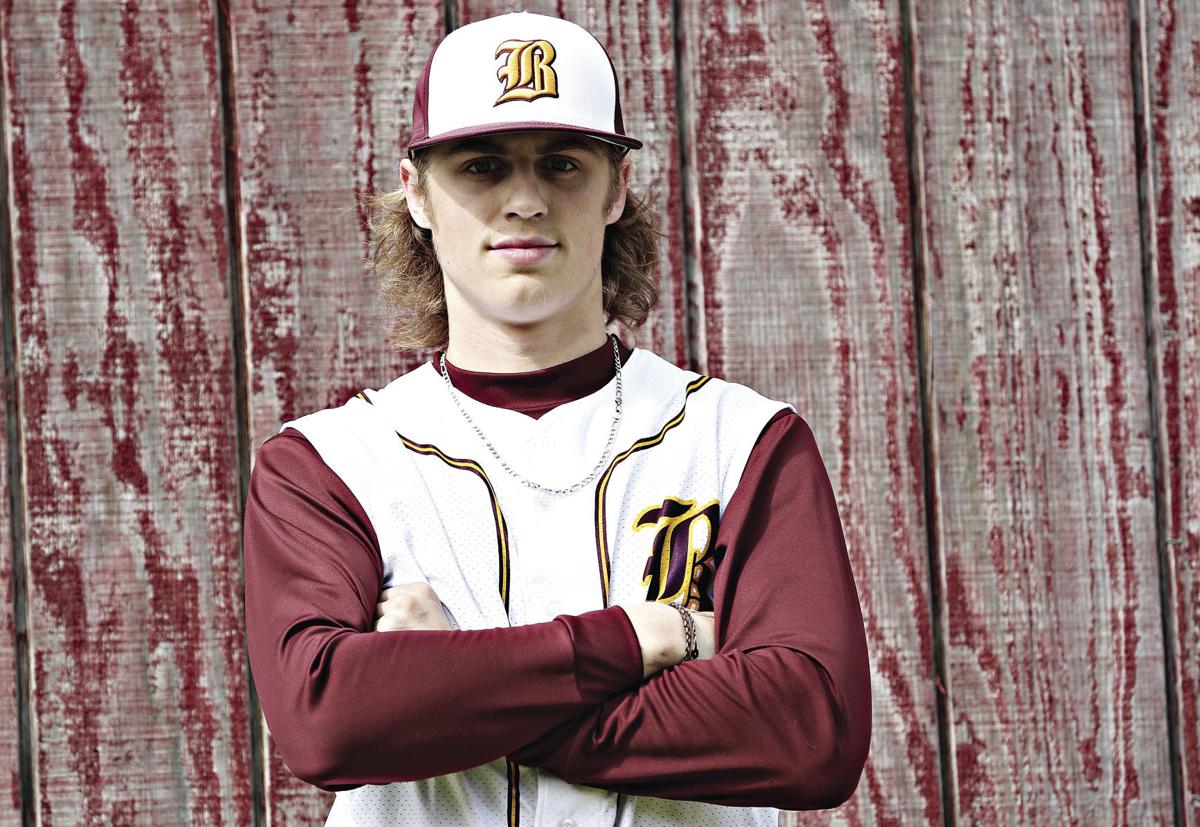 Near the start of the 2019-20 school year, the future of Jared Glinski's athletic career held nothing but promise.
Entering his final year at Brookville, Glinski got the chance to step into one of the most visible roles on the gridiron. He'd been tapped as the 2019 starting quarterback, a leap in responsibility after he'd previously played mostly on the defensive side.
And after the fall season wrapped up, he was primed for another impressive spring campaign on the diamond, both as a catcher and at the plate. Glinski, in his final season before heading to play at a Division I college, and the Bees hoped to build on the momentum of their 2019 state semifinal appearance.
But hits — physically and otherwise — started piling up for Ginski.
In the fall, he endured multiple blows to his 6-foot-1 frame. His elbow was roughed up, causing nerve damage, amid a tough football season. Then he broke his foot in the final game of the regular season, forced to watch his teammates enter the playoffs from the sideline.
"Broke a piece a bone off. Had a pretty good sized chunk floating around," Glinski said of the latter injury, which required surgery.
Off the gridiron, Glinski's baseball career was in the crosshairs, too.
Glinski was set to play for Radford in 2021, the offer and his commitment a result of his obvious talent at the plate. During his junior season at BHS, Glinski led the Bees with a .400 batting average, drove in 30 runs and tallied five homers on his way to a first-team All-Seminole District selection and second-team All-Region 3C accolade.
A coaching change at Radford, though, altered the trajectory of Glinski's path.
When the previous coach, who offered Glinski a scholarship, left and a new coach stepped in, Glinski said he initially received reassurances he still had a spot on the roster.
"Everything's good," Glinski said the message was. "You have nothing to worry about."
Three times he heard the same thing, but Radford later reversed course, calling Glinski's father with the news.
At first, Glinski, who was never told personally about the decision, thought the message his dad relayed was a joke. Eventually, the news sank in.
"It sucks," he said of the situation.
Glinski, who had been in contact with other Division I schools, said those other schools are not an option now.
So Glinski pinned some of his college hopes on his high school finale, the games that were set for March, April, May and maybe even June, if the Bees were to make a postseason run.
"I was really looking forward to the spring to help me out with that situation," Glinski said. "But now we're here."
Now, Glinski, finally back from the rehab for his elbow and recovery after foot surgery, won't get that shot thanks to the pandemic.
The Bees had pieces that could have fit together for another promising season, and Glinski undoubtedly would've shone at the plate again.
"Everybody wants to play," he said of his team, adding he also hoped to find some happy ending to his high school years. "I wanted to go out there for one last season, one last time with my best friends. Definitely had a vision this year after all that happened. …
"I built a lot of hope for what would've been this season, a lot of excitement. To not get to experience what would've been hurts."
But Glinski, during his high school athletic endeavors, and this year especially, has always stood up again after getting knocked down.
While Glinski has had to endure more than many high school athletes, he doesn't necessarily believe the lack of a spring season "hurts me more than anybody else."
He doesn't regret playing multiple sports, including one as high-contact as football, at the risk of his future baseball career.
He's moving forward, now, as best he can, hoping to put difficulties in the past. Glinski's exploring options for playing baseball at a non-Division I school, believing he still has more to contribute to the sport.
And he's taken to heart, now, the lessons he's learned this year and this spring.
He said he aims to live in and appreciate the moment and what he does have, including those who have held him up in the process, like teammates with whom he's created a tight bond.
There's nothing like high school sports, Glinski said. So all the moments of elation that were part of his prep career — like the celebrations that accompanied the Bees' 2019 state baseball tourney run — and even the "devastating" times — like the injuries and a tough start for the Bees football team in the fall — are experiences that helped shaped him. No matter what is next, Glinski said, those are the BHS moments he'll never forget.
Emily Brown covers the Hillcats, ODAC and high school sports for The News & Advance. Reach her at (434) 385-5529.
Emily Brown covers the Hillcats, ODAC and high school sports for The News & Advance. Reach her at (434) 385-5529. 
Concerned about COVID-19?
Sign up now to get the most recent coronavirus headlines and other important local and national news sent to your email inbox daily.