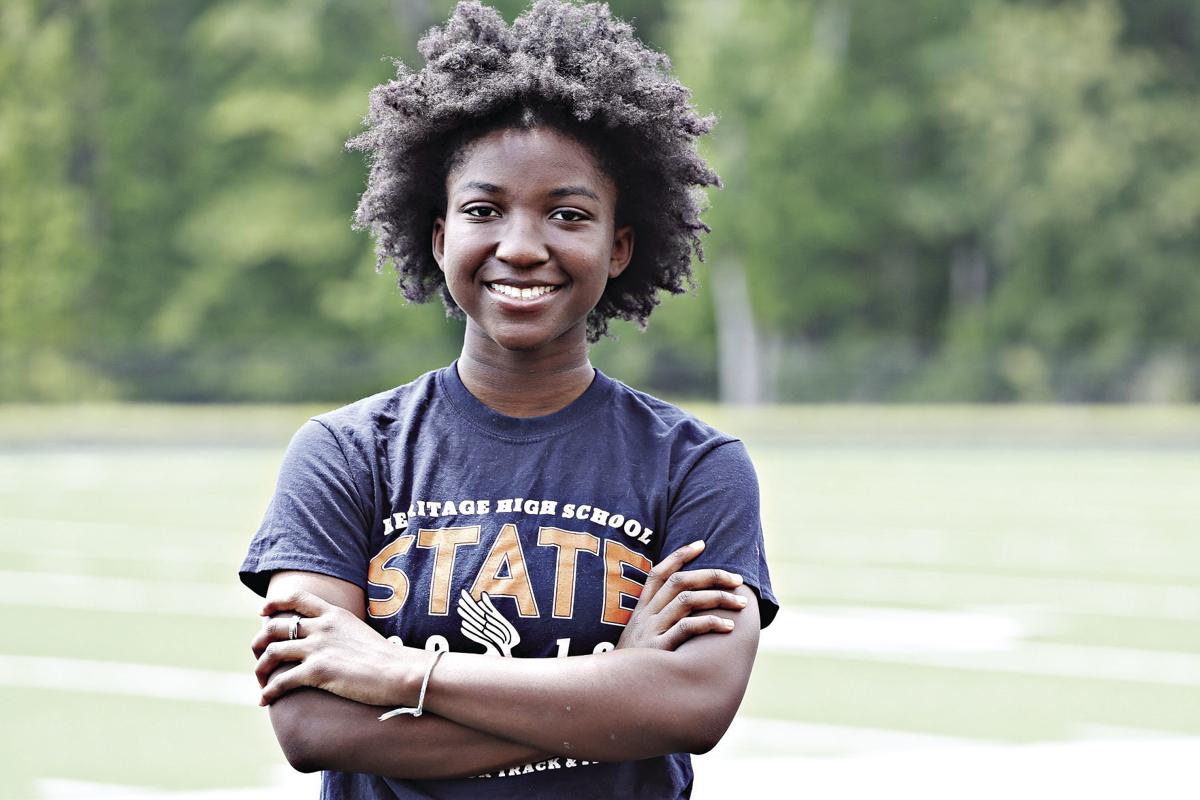 Victoria Johnson's response came quickly. Upon hearing her high school track & field days were over, ending much earlier than she had ever expected, Johnson let her emotions take over.
"I cried when it was canceled," Johnson, the Heritage senior athlete, said of this spring season.
The reaction makes sense, of course, especially given the path she was on.
Johnson and her Pioneers teammates, over the last year or so, showcased a wealth of talent across multiple events. And that raw ability of the HHS girls, coupled with all their hours on the track and in the field practicing, paid off in the form of a state title last spring.
That day last June displayed how the collective effort of multiple athletes could pay off, and signaled the strength of the Lynchburg city team to the rest of Class 3. It should've served as a warning shot.
The next time they got back on the track, the Pioneers were determined to build on the momentum, and they did just that. At the conclusion of the winter indoor season, they captured another trophy, this one by a wide margin.
"[We] ended on a great note," Johnson said. "Very proud."
That reality, despite the disappointment that accompanied the early conclusion of her senior season, helped Johnson shake off the sadness she initially felt.
After a few minutes, she said, "I was OK."
Johnson has taken solace in the knowledge she gave everything she had to the program. That work —being at the track on her own, well after practice, for example — paid personal dividends, too.
She capped this year's indoor campaign with an individual state title in the high jump. She took home the Region 3C championship, as well.
"If someone told me I would win when I started, I would've been shocked," Johnson said of the state title win.
To be clear, she added, that's where she would have been mentally a couple years ago. If she'd had that same conversation with someone during her senior year, her response might be different.
This year, she was confident, because she was motivated to go out on a high note. She tried to be coachable as she honed her skills, and she put in extra hours on her own, she said.
Johnson "worked hard" for her incredible progress in just two years, the short amount of time since her sophomore year, when she first picked up the event.
So Johnson's success in her high school swan song was welcome, and "not a surprise" after all she sunk into the sport.
Since she's been away from Heritage, Johnson said she's tried to look at the extra free time afforded by the pandemic as a "blessing" rather than a "curse." So for now, she's working toward her next goal: making a college team.
Johnson said she will attend Virginia Tech and intends to try out for the team there, so she's "trying to prepare myself for the future."
Heading to Blacksburg with a third state title on her list of accomplishments certainly would have been nice, Johnson said. But more than anything, the senior said she's sadder she "didn't get the experience" of one last season with her HHS teammates.
"I don't think I was doing it for a ring," she said. "… I was so excited to have my last year."
She'll miss the bus rides, overnight trips and messing with coaches — all the things she and her teammates could bond over. Johnson, though, is still grateful for the memories, and she's hopeful for the future of HHS track & field.
"I believe in them," she said.
Emily Brown covers the Hillcats, ODAC and high school sports for The News & Advance. Reach her at (434) 385-5529.
Emily Brown covers the Hillcats, ODAC and high school sports for The News & Advance. Reach her at (434) 385-5529. 
Concerned about COVID-19?
Sign up now to get the most recent coronavirus headlines and other important local and national news sent to your email inbox daily.