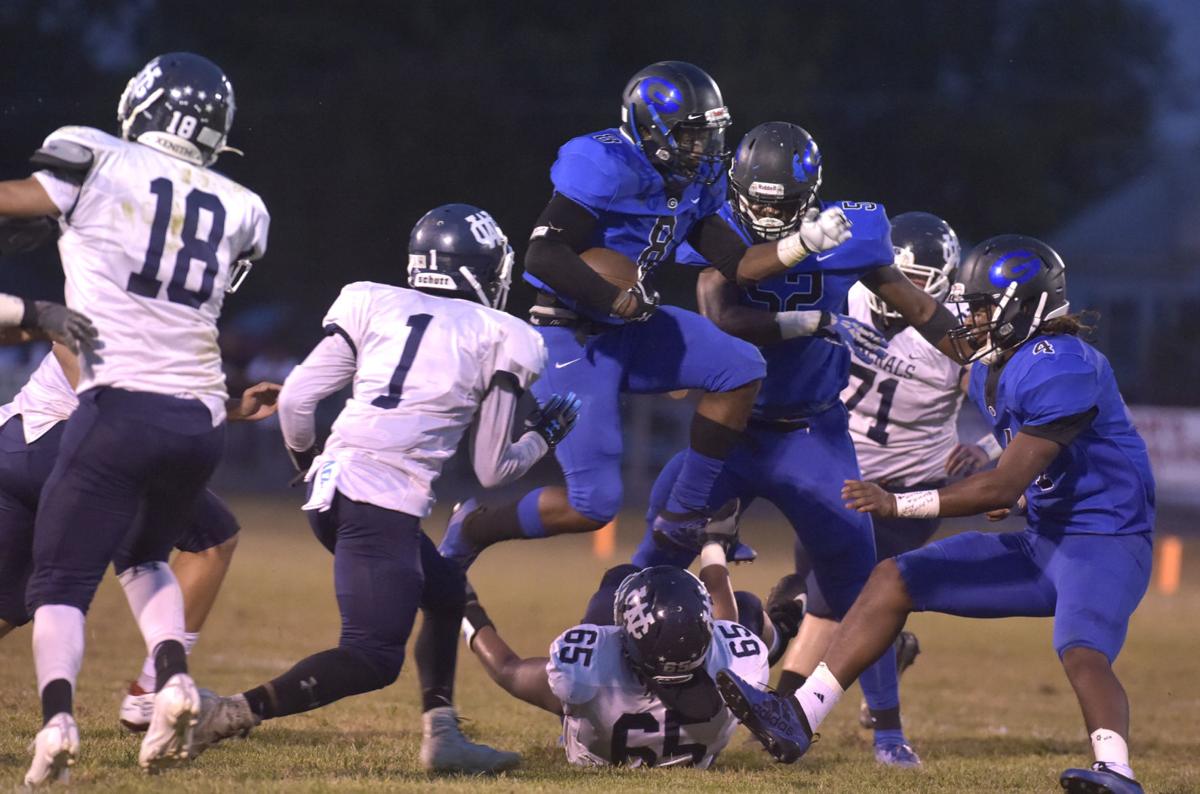 The Virginia High School League on Friday released a comprehensive list of guidelines for a potential return of athletics this summer, but area schools and divisions are taking a cautious approach as they look to begin practices.
After three months without sports because of the coronavirus pandemic, high schools have the option now to get athletes back on their fields of play, with stipulations.
"The VHSL believes it is essential to the physical and mental well-being of students to return to physical activity and athletic competition," the VHSL said in the guidelines issued Friday.
After Gov. Ralph Northam in the last couple weeks outlined requirements for schools to reopen via a phased approach, divisions in the area got to work on plans showing how they will implement CDC and Virginia Department of Health virus mitigation strategies. Submission of those plans to the Virginia Department of Education opens the door for the return of sports — which, in the high school ranks, had been missing since the end of the winter season, as the pandemic canceled the entire spring season.
The VHSL, last week, then said out-of-season practices could begin as soon as this past Monday, also suspending the summer "dead period" that stretches from June 29 to July 4 for 2020.
So far, no area schools have made their comebacks yet. But many schools and divisions are making progress on that front, using the VHSL document issued Friday as important guidance to ensure the safety of students and coaches.
"First and foremost, we want to make sure we can do it safely," Amherst athletic director Robert Curd said.
The document offers advice that can be applied to all sports in the current Phase Two — such as suggestions for disinfecting, wellness checks, entrance and exit strategies, hygiene practices, hydration, face coverings, travel, the sharing (or lack thereof) of equipment and limitations on numbers of people in gatherings indoors and outdoors.
Under the governor's Phase One return to school guidelines, no athletic activities were allowed. The VHSL did not address what Phase Three will look like for athletics in Friday's document.
The VHSL acknowledged "there is a near certainty of recurrent outbreaks in the coming months," adding schools should be prepared for periodic school closures or the isolation of teams within athletic seasons.
The VHSL also said because of the ever-changing nature of the pandemic, there could be "significant changes" to the guidance issued Friday, and said individual schools may progress or regress through the phases, depending on disease prevalence and guidance from local, state and public health officials.
Lynchburg schools are several weeks out from in-person meetings, according to Heritage coach Brad Bradley, who said he hopes for a July 6 return.
Other divisions, such as Bedford and Nelson counties, still are examining next steps and have not established specific return dates.
Elsewhere, the timeline for athletes' long-awaited reunion with teammates and coaches looks a little more optimistic.
Brookville coach Jon Meeks said the Bees are at least nine days away. His team has "penciled in" June 29 as the day it may be able to get in the weight room, which is filled with new equipment that will be spaced out and ready for small groups to use.
Curd said Amherst is at least a week out.
Gretna, in Pittsylvania County, looks to be the first area football squad finally together again — the team plans to rotate in groups of 10 to the weight room beginning Monday. Social distancing and disinfecting measures will be in place, as well as wellness screenings and temperature checks for all athletes.
"It's good to start getting back into the routine of things," Hawks football coach Cole Simpson said. "It's the first step toward getting back to normal for us. Even though we can't have the whole team together at the same time, it is a step in the right direction."
Athletic directors and football coaches who spoke with The News & Advance all said even during the early stages of a phased return, students will benefit from in-person interaction with teammates and coaches, even if the entire team cannot be together.
Additionally, athletes will have a chance to focus solely on making progressive physical gains after so many months out of school and practice. Right now, football coaches said, gatherings aren't about the X's and O's of the gridiron.
That approach aligns with the VHSL guidelines for the "higher infection risk" sport, which, like the National Federation of State High Schools' guidelines released in May, prohibit a number of typical football activities during Phase Two.
Athletes can't share footballs or equipment like sleds, can't wear pads or helmets and can't run drills that involve contact for the time being, according the VHSL guidelines for Phase Two.
The VHSL issued sport-specific suggestions for all other sports — fall, winter and spring — in the document as well.
Cross country and golf in the fall shouldn't encounter too many issues, as both are considered "lower infection risk" activities in which social distancing is more easily accomplished.
Volleyball is the other area fall sport that carries risks — deemed "moderate" by the VHSL. Friday's document says those players should all use their own volleyballs and should not use a ball that others touch or hit in any manner.
No concrete guidance has been issued on what the next phase may look like for high school sports in the commonwealth or on what the fall season may look like. But the VHSL is expected to address such issues at its next meeting June 25.
Emily Brown covers the Hillcats, ODAC and high school sports for The News & Advance. Reach her at (434) 385-5529.
Emily Brown covers the Hillcats, ODAC and high school sports for The News & Advance. Reach her at (434) 385-5529. 
Be the first to know
Get local news delivered to your inbox!