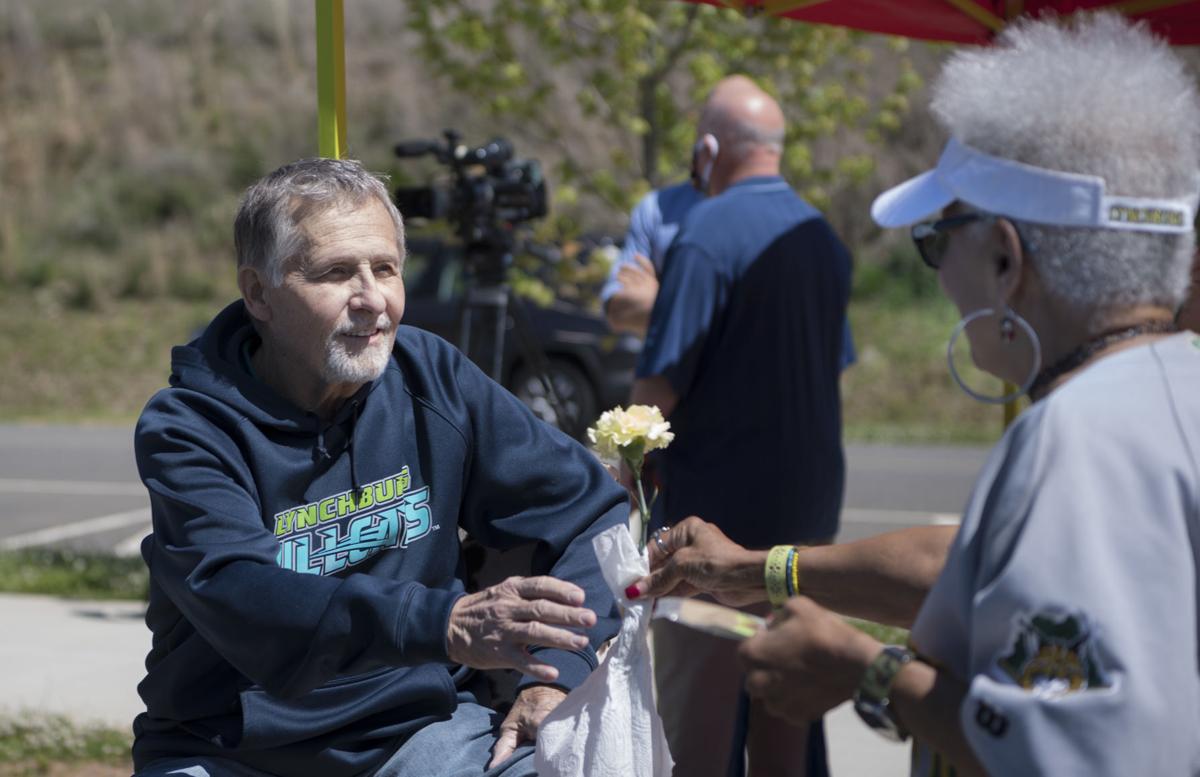 Five months to the day after his death, more than 100 people found spots in stands at the stadium Ronnie Roberts made his home —the place that was his point of pride and his personal playground — for decades.
Under the puffy white clouds suspended above Bank of the James Stadium (formerly City Stadium) on Sunday, they gathered to remember Roberts, the area legend who dedicated decades of his life to the people of Lynchburg and the players who graced the diamond there. One after the other, speakers recalled and shared the stories that epitomized the life of Roberts, the former Lynchburg Hillcats general manager who died of cancer on May 18.
"Let 'em in, let 'em all in, let the fun begin!" rang out across the quiet seats and bleachers, Roberts' familiar voice welcoming those who came to honor him.
During his 28 years with the program, a tenure that began with a spot as a groundskeeper and included assistant GM and GM duties, the combination of words became one of Roberts' catchphrases. Roberts, who was 70 when the prostate cancer that had metastasized claimed his life, made it his mission to help every person who came through the stadium — every fan, staffer and baseball player — enjoy their experiences.
"He chased his dream," Roberts' brother-in-law John Infinger said Sunday, "and he caught it."
Stories from more than a dozen family members and friends focused on Roberts' dreams.
From an early age, his dreams focused on playing sports, including football and baseball. The latter became the passion he followed into college and eventually in his professional life.
A member of the Hall of Fame at both Northern High School in Durham, North Carolina, and Methodist University in Fayetteville, North Carolina, he went on to play semi-pro ball before the end of his playing career. Years later, he gave up a life in banking and insurance in favor of a life focused once again on baseball.
In the 1990s, Roberts found a spot at Lynchburg, the only organization in the minor leagues he was a part of.
"He made life at the stadium enjoyable for not only the fans, but for him," Paul Sunwall, the baseball club's former CFO, president and GM, said Sunday. "He got his fix out here."
Roberts called City Stadium home for 28 years before his retirement in 2018, putting his philosophy that "every day is a holiday; every meal is a feast" on full display.
Even when rain meant reporting early to the field for a tarp pull, Josh Duffy, a former staffer, said Roberts didn't complain. Instead, he'd rejoice via song about loving the start of the homestands others could find grueling.
Roberts took care of all the less-than-desirable tasks, like cleaning bathrooms and picking up trash, without ever looking for credit.
That willing attitude defined Roberts inside and outside the stadium, family members said.
Roberts' daughter, Jennifer Roberts O'Briant, recalled an occasion growing up when her father turned the car around on a busy street to make a friend pick up a gum wrapper she'd thrown out the window. Roberts couldn't stand the litter.
And as he was in Lynchburg, Roberts — the larger-than-life entertainer at baseball games — was the same cutup with family and friends in North Carolina.
"We laughed," said Infinger, one of several family members to relay stories of Roberts' shenanigans and practical jokes. "Boy, did we laugh."
Ella O'Briant, one of Roberts' four grandchildren, talked about the laughs she had with her Papa Ron, like the Thanksgiving when he crashed into the bushes while playing Frisbee with the grandkids.
The story elicited similar laughter from those in attendance. Somber moments, of course, accompanied the lighthearted memories during the ceremony.
Tears came when friends and family thought of the loss of a man who displayed high character at all times.
"He had the ability to find something extraordinary and something worth telling in perhaps something that would seem ordinary to everyone else," Duffy said of Roberts' ability to find the best in everyone he came in contact with, people in all walks of life.
In addition to taking care of the dirty jobs, Roberts' never let people see any weakness he carried.
He showed off his muscles when out-lifting staffers 40 years his junior in pylon-hoisting contests.
"He was tough. He never wanted anybody to believe he was the least bit tired," Zach Willis, a former staffer, said.
And Roberts displayed his strength in continuing to work with a smile while undergoing cancer treatments for about 10 years.
"Ronnie was the guy that you measured yourself against. He was the benchmark," Infinger said. "He was the one you looked up to because of his character, his integrity, the example that he set in everyday life."
Be the first to know
Get local news delivered to your inbox!