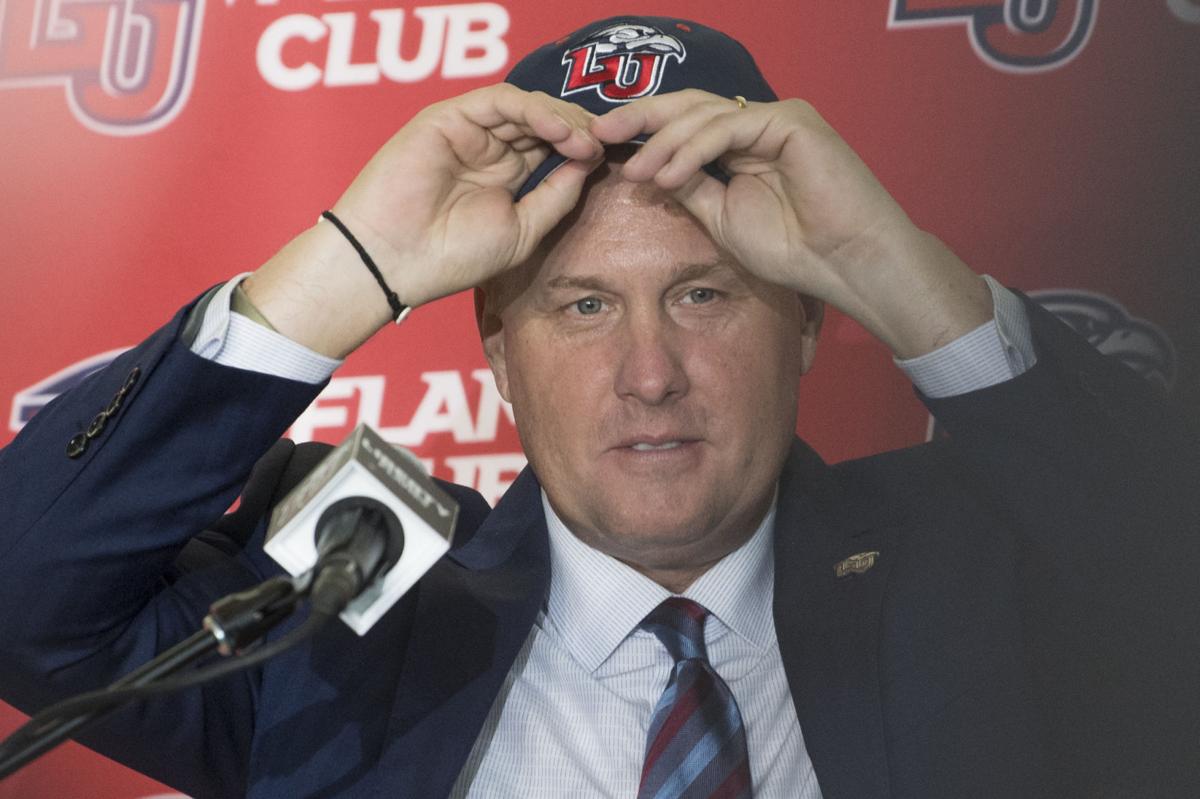 Liberty University Athletic Director Ian McCaw promised to swiftly fill the vacant football head coaching position earlier this week.
He made good on that vow Friday morning with a heavy-hitter hire.
McCaw and Liberty agreed to terms on a five-year contract with former University of Mississippi coach Hugh Freeze to become the program's ninth head coach.
The move brings Freeze back to a head coaching position for the first time since the 2016-17 season following an unceremonious departure from Ole Miss, where he recorded a 39-25 record with four bowl appearances in five seasons.
Freeze resigned in the summer of 2017 after school officials discovered he used his university-issued cell phone to call numbers associated with escort services. Earlier in the year, the school issued a self-imposed, one-year bowl ban for the 2017 season after receiving an NCAA notice of allegations that accused the Rebels of a lack of institutional control and Freeze for failing to monitor his coaching staff.
"We did a lot of vetting and we included our compliance office, and I think really the telling thing relative to that is [Ole Miss] received very serious sanctions, but his role was deemed very minor in that," McCaw said. "There was a comment in the infractions report that said his head coach responsibility was commendable and really spoke to the fact that he did everything within his ability to have a very compliant football program.
"That spoke volumes to us, and again we feel really good about him in terms of his character, in terms of his commitment to compliance, and we're confident we have just hired one of the best football coaches in the country."
When asked about the NCAA's notice of allegations accusing Freeze of failure to monitor his coaching staff, McCaw said, "It was a staff member who was doing something inappropriate that [Freeze] had no knowledge of. It's something that can happen to anybody. I have, like many other people, if you have hundreds of people who report to you, you can have a rogue employee. Unfortunately that's what happened at that institution."
Freeze owns an overall coaching record of 69-32, which includes stops at Ole Miss, Arkansas State and NAIA program Lambuth.
His hiring came four days after Turner Gill abruptly retired after Liberty completed its inaugural Football Bowl Subdivision season last weekend. The Flames went 6-6 thanks to back-to-back home victories over New Mexico State and Norfolk State to close out the season.
"Dr. [Jerry] Falwell's vision was for Liberty football to compete with Notre Dame, USC and Alabama," McCaw said, "and even though we're one year into FBS, I think being able to hire a coach of Hugh Freeze's stature does accelerate the process and makes us a very credible program that is going to gain national prominence through his hiring and get to bowl games very, very quickly."
Freeze was one of several interviewed for the position, which also included current Liberty offensive coordinator Joe Dailey and defensive coordinator Robert Wimberly.
"We looked at both internal and external candidates, and we really did the interview process over a two-day period," McCaw said. "The first two days of the search was really doing our due diligence, background checks and research, then we had two days of interviews, and today the announcement."
The next football coach at Liberty University will inherit a stocked cupboard.
Freeze was a hot commodity following the regular season's conclusion with three Power 5 conference programs — Tennessee, Auburn and Florida State — showing immense interest in hiring Freeze as an offensive coordinator.
Liberty's offer to become a head coach again was too good to pass up.
"[I] really felt like of the opportunities that presented themselves, that when I really sat down and got by myself and thought about how this is somewhat in my mind a restart or a reboot," Freeze said, "the best environment for my wife and kids and myself to do that in, it's pretty clear that … the environment in this case is good for my family, is somewhere you're embraced and people understand grace and celebrate you not only who you are but whose you are. That kind of made it in the lead pretty quick."
Freeze, 49, was set to be the offensive coordinator of the Arizona Hotshots in The Alliance of American Football before taking the head coaching position at Liberty.
His first public appearance following his resignation from Ole Miss came at Liberty in late January of this year when he and his wife, Jill, appeared at one of the thrice-weekly convocation services.
Freeze used the platform to speak about his faith and publicly apologize for his indiscretions.
His hiring has drawn some mixed reactions, similar to that of McCaw when he was selected as Liberty's athletic director in late November 2016 after serving in the same role for 13 seasons at Baylor.
McCaw resigned in May 2016 amid sexual assault scandals that rocked the Baylor football program. Prior to his resignation, he was sanctioned and placed on probation, football coach Art Briles was fired and university president Ken Starr resigned.
"It's just part of Liberty's DNA to give people second, third and fourth chances," Liberty University President Jerry Falwell Jr. said Friday of the Freeze hire. " … That's one of the things that's unique about Liberty."
Following the conclusion of the late January convocation service, Freeze was given a tour of the university and its facilities. It was during that time he developed a relationship with the athletic department that paid dividends when Gill unexpectedly retired so soon after the season's conclusion.
"Him coming to convocation a year ago was really the game-changer in the search," McCaw said. "There was already a great mutual respect between Liberty's leadership and Freeze's family. I think that was really foundational in terms of him being the candidate we really focused on and in turn him having a great appreciation for Liberty."