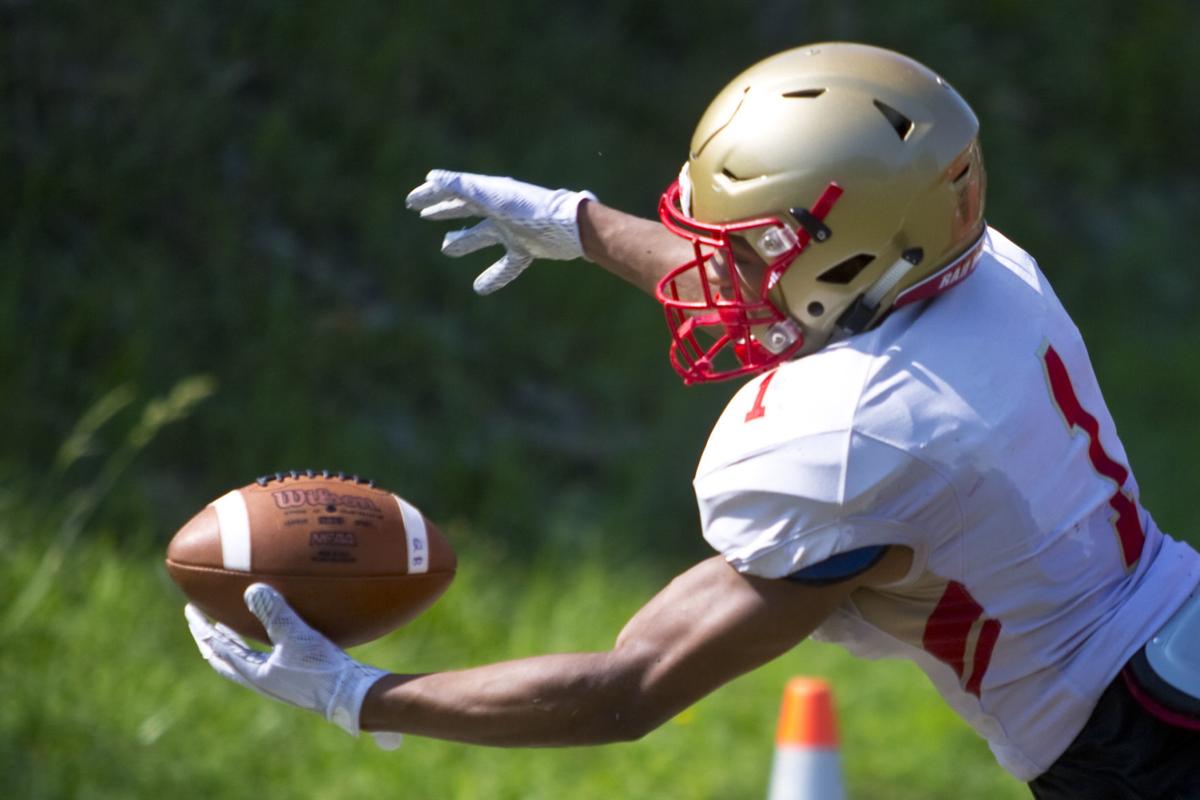 VMI's top receiver is transferring to one of the best FCS programs in the country.
Kris Thornton announced on Twitter on Friday night he is transferring to James Madison.
Thornton caught a school-record 87 passes as a sophomore last fall, earning All-Southern Conference second-team honors.
He had 1,003 receiving yards last year, becoming just the third player in VMI history to reach at least 1,000 receiving yards in a season. He had four touchdown catches.
The Manassas native had 11 catches for 155 yards against Mercer; 11 catches for 146 yards against The Citadel; 119 receiving yards against East Tennessee State; and 116 receiving yards against Chattanooga. He had a 67-yard catch at Old Dominion.
He ranked second in the SoCon in catches per game (7.9) and third in receiving yards per game (90.7).
Thornton also was VMI's top receiver in 2017, when he had 33 catches for 340 yards and two touchdowns as a true freshman. He made the SoCon's all-freshman team that year.
In his tweet, Thornton thanked the VMI coaching staff for "believing in me while I was there" and thanked the JMU coaching staff for "this amazing opportunity."
JMU won its second FCS championship in 2016 and made it back to the title game the following year. JMU lost in the second round of the playoffs last year.
Thornton, who will have to sit out the upcoming season under NCAA transfer rules, becomes the second VMI receiver in recent weeks to announce he is transferring.
Devone Humphrey announced on Twitter on June 24 that he was transferring to Mid-Eastern Athletic Conference member Delaware State.
Humphrey tied for fifth on the team with 27 catches last fall, when he was a sophomore. He had 200 receiving yards and three touchdown catches last year.
VMI also lost its top running back to the transfer portal.
Quan Myers announced in April that he was joining Division II member Mars Hill as a graduate transfer.
Myers, a Brookville High graduate, ran for a team-high 381 yards and tied for third on the team with 30 catches as a fourth-year junior last season.
VMI won just one game last fall — a November win over Division II member Tusculum that snapped the Keydets' 25-game losing streak. But VMI did rank eighth in the FCS in passing offense (310.2 ypg) last season.
After his team went 0-11 in 2017, VMI coach Scott Wachenheim hired offensive coordinator Brian Sheppard and switched to an Air Raid offense. The uptempo attack, which featured a three-receiver set, made the Keydets a threat through the air.
Quarterback Reece Udinski threw for a school-record 3,082 yards as a sophomore last fall, when he also broke the school single-season mark for completions (302) and tied the school single-season mark for TD passes (20).
Udinski is set to return.
The team's other receivers of note — Javeon Lara (53 catches), Rohan Martin (30 catches) and Jakob Herres (27 catches) — also are set to return. So is running back Alex Ramsey, a Salem graduate who was the team's second-leading rusher (318 yards).
VMI's basketball program has also been hurt by the transfer portal in recent months.
Five players opted to transfer since the basketball season ended, including standout Bubba Parham, who left for Georgia Tech.