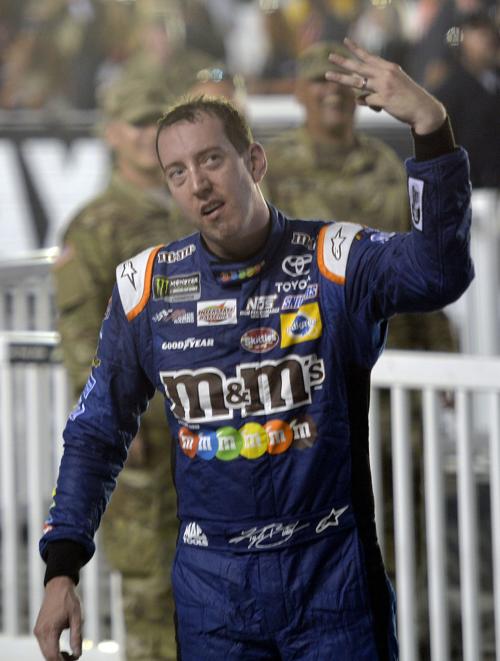 Here's a not-so-bold prediction for this weekend's Night Race.
Kyle Busch will earn his ninth Cup win at Bristol Motor Speedway, and he will do so in convincing fashion.
Moments after the victory, Busch will tease detractors by executing a ceremonial bow and making a few boastful statements.
Fans will boo, Busch will smirk and track promoters will grin over the sight of all those animated race fans.
The Las Vegas native is part carnival barker and part wrestling heel. He gains motivational fuel from the negative reactions of fans and opponents, and he has the uncanny ability to back up his boasts.
Love him or hate him, Busch is good for business and he represents the perfect symbol for the Bristol Night Race.
In a sport bogged down by generic tracks, overhyped teen "phenoms," and a rules package which has curtailed passing, the Night Race at BMS is the equivalent of a Monsters of Heavy Metal rock concert headlined by AC/DC.
As the sun goes down in the mountains of Northeast Tennessee and the lights come on inside inside the .533-mile Hillbilly Thunderdome, the pace gets frenetic.
While other drivers are looking to preserve their equipment, maintain their place in the season point standings, and stay out of trouble, Busch attacks from the green flag.
Consider this stat. In 28 Cup starts at BMS, Busch has led 2,304 laps. Can you say aggressive?
Following his latest conquest in April's Food City 500, Busch summed up his approach to racing at Bristol.
"We just do what we do, try to win," Busch said.
And Busch works Bristol like no other driver.
As his peers fuss about lapped traffic, Busch makes his own path. When other crew chiefs preach caution, Busch storms to the front.
The glory run by Busch in April offered a fitting example why Busch is such a force at Bristol.
Unlike some of his other conquests here, Busch faced three challenges in the form of an opening lap crash, a mangled rear bumper and a dramatic charge by his brother, Kurt.
The decisive chapter was written after a restart with 15 laps remaining.
How hungry was Kurt Busch to author his own success story?
"I wanted that one bad," Kurt said. "I was willing to wreck my little brother to win. He had already won seven times here."
To the dismay of many, Kyle managed to master Bristol once again.
"It was fun to battle it out with the brother there," Kyle said. "I saw him working the top. I got up there and was able to make some ground.
"What's crazy is that I won the spring race here last year, then he won the fall race and then I won the spring race. Three in a row for the Busch brothers."
Mark it down, Kyle will extend that Busch family streak to four this weekend at his personal proving ground.
Be the first to know
Get local news delivered to your inbox!