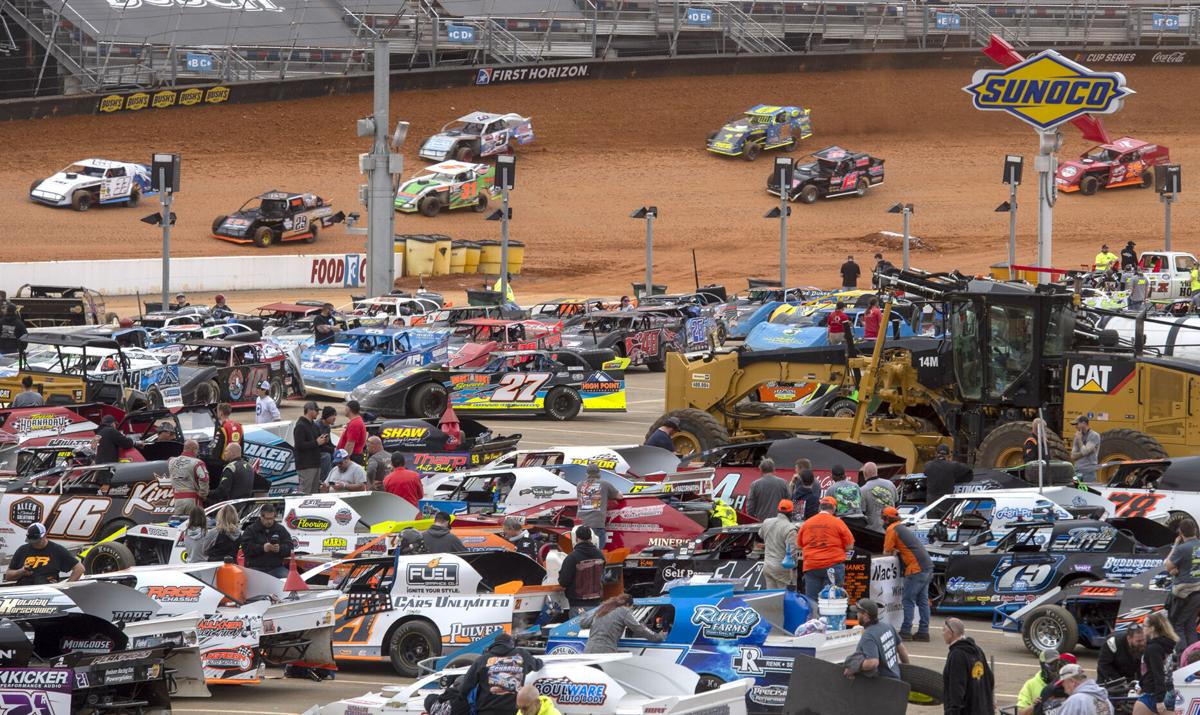 BRISTOL, Tenn. - Ty Giles made his first laps around Bristol Motor Speedway Tuesday afternoon.
He went over 100-mph in his radical dirt late model, navigated the 19-degree banks and came back for more.
Not bad for a 12-year-old.
"I've got to tell you, this place is pretty interesting," Giles said. "It's kind of hard to breathe at first, but I was able to get in some good laps."
Giles is among over 1,300 racers from 40 states entered in the eight divisions for this week's Karl Kustoms Bristol Dirt Nationals.
After rain postponed Monday night's feature races, Tuesday's schedule was moved up to 2 p.m. and the action continued until late in the night.
The story for Giles is common to the speed chasers scattered all around the BMS property.
"I got my start in karting at age five and won a lot of races before I moved up to these cars last year," Giles said.
Giles, who lives in the southwest Georgia city of Moultrie, is competing at BMS in the 602 Late Model class. The 2,400-pound cars use crate engines, which is a cost saver for grassroots teams.
"I came to a NASCAR race here at Bristol a couple years ago with my dad and I've been wanting to come back ever since," Giles said.
The path to Bristol was not easy for Giles. Consider his adventure last Friday at Cochran Motor Speedway, a 3/8ths-mile dirt track located in Cochran, Georgia.
"My car got totaled, so I had to go to my buddy's shop and rebuild it before I came to Bristol," Giles said.
The home track for Giles is Needmore Speedway in Norman Park, Georgia. Another Georgia driver, Jonathan Davenport, is the hero for Giles.
"I always wanted to drive a Super Late Model and become big friends with Jonathan Davenport," Giles said. "I've met Davenport, and l'm really good friends with Scott Bloomquist."
Davenport (Blairsville, Ga.) and Bloomquist (Mooresburg, Tenn.) are two of the biggest names in dirt racing. Davenport earned the nickname of "Superman" for his many triumphs, including three Lucas Oil series national championships. The flashy Bloomqiust has over 600 wins and many series titles.
To prepare for the Bristol Dirt Nationals, Giles watched a video of the 2000 Battle of Bristol dirt late model race at BMS.
"I wanted to see what this track was like, and I saw that Bloomquist was racing with Dale McDowell. That was pretty good," Giles said.
McDowell (Chickamauga, Ga.) emerged as the winner of that storied 2000 event.
Bloomquist is expected to compete this weekend along with NASCAR Cup regulars such as defending Cup series champion Chase Elliott, Kyle Busch, Kyle Larson, Austin Dillon, Joey Logano and Corey LaJoie.
Dillon was one of the most impressive drivers in Tuesday's early session, winning his heat in the 604 Late Models.
NASCAR regulars Cole Custer, Austin Hill, Chris Buescher and LaJoie also competed in various divisions at BMS Tuesday.
For Giles, the scene at one of the most iconic facilities in motorsports added up to a major exam.
"I'm just having fun and trying to learn the racetrack," said Giles, who is home-schooled. "I want to make racing my career, and this experience helps."
What sort of notebook items did Giles learn Tuesday?
"You've got to stay at the bottom of the track and in the black," Giles said. "If you get out of the groove, you're just going to straight into the wall. The best way around here is to drive straight into the turns."
Giles wasn't only the only young phenom competing at BMS Tuesday. Florida's Trey Mills actually won Tuesday's 602 feature.
Meanwhile, Giles is eager to take the next step in his Bristol Motor Speedway education.
"Just being with this big crowd of racers is inspiring," said Giles, who is building a 604 Late Model. "I hit the wall in one of my heat races, and it takes a while to get used to this place."
With its high speeds and massive banks, BMS can create butterflies for even NASCAR veterans. But Giles was calm in the pits.
"There's not anything like Bristol, but I don't get nervous," Giles said. "It's been a dream, a big dream to run to come here.
"This is really crazy to be honest, but I'm having fun."
Wednesday's Bristol Dirt Nationals program will begin at 9 a.m., with races scheduled in the Sport Mod, Modified, 602 Late Model and Hornets classes.