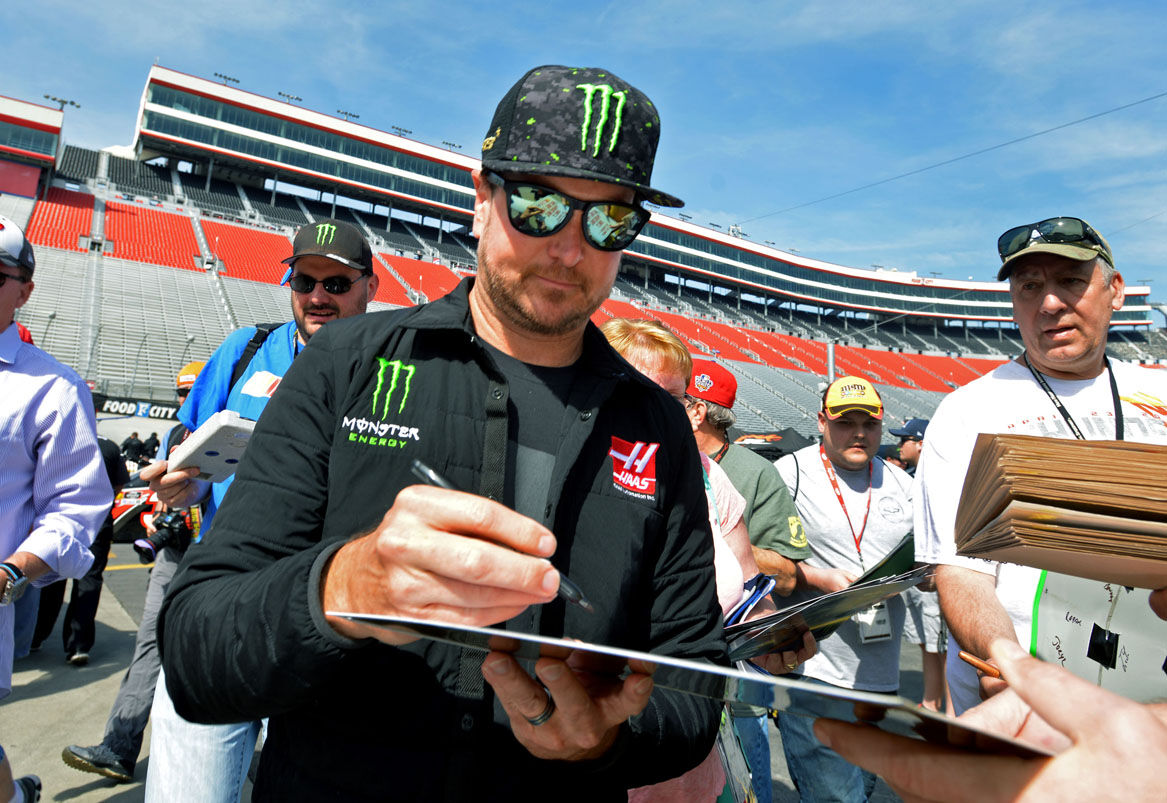 Short track fans around the country were granted a wish in July when the NASCAR All-Star Race was staged at Bristol Motor Speedway for the first time.
Another long-awaited wish will be realized Saturday night at BMS and Cup Series veteran Kurt Busch is delighted.
"I think it's awesome that Bristol is a cutoff race in the playoffs," said Busch during a Zoom conference. "It's always deserved to be in the playoffs. It's the Bristol Night Race. It's one of those crown jewel marquee events."
In terms of tradition and prestige, NASCAR's four crown jewel events have long included the Daytona 500, the World 600 at Charlotte Motor Speedway, the Southern 500 at Darlington Raceway and the Brickyard 400 at Indianapolis Motor Speedway.
According to Busch, the Bristol Night Race also deserves top billing.
"A lot of people are focused on the playoffs, but this race is as big as the Southern 500 was a couple weeks ago," Busch said.
Before his younger brother Kyle conquered the track, Kurt was considered the master of Bristol. In 39 BMS starts, Kurt has six victories and 12 top-five finishes.
The most recent Bristol win for Kurt came in the 2018 Night Race. But Kurt said his Bristol notebook needs a refresher.
"The setups are changing rapidly at Bristol," Kurt said. "I finished second at Bristol to my little brother when I started with the [Chip] Ganassi team, and I won in 2018 with Stewart-Haas [Racing].
"Those setups are just not there anymore. That's where you have to evolve and adapt. Chase Elliott put a whupping on everybody at the All-Star race, so we have to watch out for that."
For various reasons, Kurt Busch is familiar with the spotlight at Bristol.
Flash back to the 2003 Night Race. Before and after that storied event, the then 25-year-old Busch was greeted by boos, jeers and hand gestures.
Just one week before, a simmering feud between Busch and rugged driver Jimmy Spencer culminated in an incident at Michigan International Speedway.
Moments after that race, Spencer approached Busch in his car and hit him in the face. Busch, who was left with a bloody nose and chipped tooth, filed an assault change that was later dropped.
NASCAR officials fined Spencer $25,000 and barred him from competing at Bristol. Busch earned a measure of revenge by taking the checkered flag.
"To win the 2003 Night Race a week after all the debacle that was going down with me and Jimmy Spencer …. it was like a me versus the world moment," Busch said. "Back then, I just wasn't comprehending the power of what was going on."
So what was the mentality for Busch entering the 2003 Night Race?
"I was just there as a young kid that was done wrong, and I was going to show everybody," Busch said. "I won the race, and then I was like 'wait a minute, why is everybody this mad. What's going on'.
"That was a big moment for me to jump out and win, and also to feel the emotion, energy and passion of NASCAR fans."
Entering this Saturday's race at BMS, Busch holds the No. 11 spot in points. The playoff field will be trimmed from 16 to 12 following Saturday.
For Busch, the cutoff aspect just adds to the big-race vibe at Bristol.
"It puts things into the hands of the driver," Busch said. "If a crew chief says you are two [playoff] points to the good, you want to look in the mirror and make sure you are clear.
"If a crew chief says that you are two points behind and somebody is on your front bumper, you have to take matters into your own hands. That's what this opportunity is for everybody."
BMS officials announced on Sept. 9 that all of its socially-distanced tickets had been sold for Saturday.
That's yet another reason why Busch has been counting down the days until his return to Bristol.
"We miss our fans, that's the number one thing in 2020," Busch said. "I'm glad that Tennessee has done that good of a job to work with the local governments and the track to make sure that protocol is followed and that everybody is safe.
"Some states have zero percent [fan] capacity for tracks and some have to 10 or 25 percent, but we miss that electric atmosphere before races."
Busch offered his own promotional line for Saturday's historic short track showcase.
"It's the Bristol Night Race and the cutoff for the playoffs. This is going to be good," Busch said.
Be the first to know
Get local news delivered to your inbox!