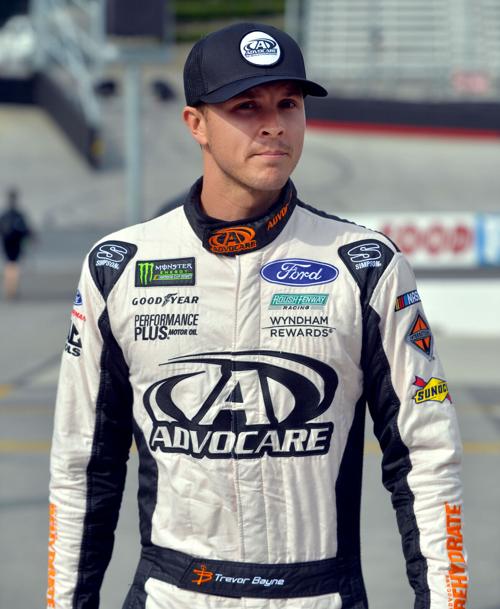 Trevor Bayne described his path to tonight's UNOH 200 Truck series race at Bristol Motor Speedway as "surreal."
"If there's one race on the whole schedule that I could pick to run, it would be the Night Race at Bristol," the 29-year-old Bayne said in a Zoom conference. "Three weeks ago, I was thinking that I might never get to race at Bristol again. Now, we're going there in a truck."
Bayne's backstory is familiar to motorsports fans around the South. The former karting and Late Model racer become an overnight sensation in 2011 when he won the Daytona 500 at age 20 for the famed Wood Brothers team.
He earned four more top-five finishes in 186 Cup starts before leaving the sport at the end of the 2018 season.
For the past two years, Bayne has worked to grow his Knoxville based coffee shop called Mahalo Coffee Roasters.
Bayne has been surprised at the reaction of his customers.
"People will come in and I'll be standing there and they will ask someone from our staff if some famous race car driver owns the place," Bayne said. "I mean I am standing right next to the person they're talking to.
"I guess I'm not that famous if they don't know who I am and they're talking to me."
The spotlight recently turned back on Bayne in unique fashion when Niece Motorsports general manager Cody Efaw made a sudden call.
"If I hadn't known Cody and his guys better, I would have thought they were prank calling me," Bayne said. "We started talking and things came together really fast.
"Within five days, it went from a possibility to an announcement that I was going to be driving at Darlington."
Bayne replaced Ty Majeski in the No. 45 Niece Motorsports Chevrolet.
"I didn't know if it was going to be a one-race deal or for the rest of the season, but things just kind of kept progressing," Bayne said. "I want to enjoy each race and make the most of it."
Due to mechanical gremlins, Bayne hasn't had much fun in his first two races at Darlington and Richmond. He's finished 27th and 29th.
"Both weekends we started with mechanical issues," Bayne said. "At Darlington, it was like lap 30. And at Richmond, right before we took the green flag I realized we had no rear brakes. The pedal was touching the firewall of the truck."
There has been one other obstacle in Bayne's return.
Due to NASCAR's policies regarding COVID-19, teams have not been allowed to practice or qualify before races. And most team meetings have been held in Zoom sessions.
So how difficult was it for Bayne to adjust to the racing grind?
"It definitely took me longer than I thought it would," Bayne said. "At Darlington, I thought I would be tuned in and not missing a beat. But it definitely took five or six laps to get used to the rate of speed again."
According to Bayne, there's no precise way to simulate the experience of competing on grueling tracks like Darlington and Bristol.
"When you've not done it for two years and you haven't gone over 70 miles per hour on the interstate, there's a big difference jumping in a truck and going to 160 or 180 at Darlington," Bayne said.
For the most part, Bayne said he's content with the ex-racer turned businessman role.
For example, there was the time last December when Wood Brothers Racing co-owners Eddie and Len Wood dropped by the coffee shop en route the NASCAR Champions Week Award banquet in Nashville.
"They were trying to talk me into putting trophies and diecast model cars all over the coffee shop," Bayne said. "I told them that it didn't fit the surf shop vibe."
For Bayne, there's no better place to win a trophy than at his home track at Bristol Motor Speedway.
"I've never been to Victory Lane at Bristol, even though we've had some good runs," Bayne said.
For example, there was the USAR ProCup Series race at BMS that Bayne competed in at age 15.
"We were leading that race when we got wrecked," said Bayne, a former track champion at Kingsport Speedway and Lonesome Pine Raceway. "We've always had good runs at Bristol, but we've haven't been able to close the deal.
 "Thursday would be a good time to do that. If we don't have any mechanical issues, I think we can have a really good truck and even win."
Tonight's BMS race will serve as the opening event of the 2020 Playoffs for the current field of 10 drivers.
The Abingdon-based Henderson Motorsports team will compete with driver Parker Kligerman.