Flames engulf the figure with a brown vest strapped to his chest at the center of a painting in the hall outside Sweet Briar College's Mary Helen Cochran Library.
Beneath the drawing rests a photo of a young woman in a hijab with deep brown eyes and a soft smile. The short text identifies her as 16-year-old Dulhan, who dreams of being an engineer like her father.
"It's watercolor. It's a simple technique, but in that there is so much depth and so much thought that comes out of those brushstrokes," Annie Labatt, the college's new director of galleries and museums, said last week as she unwrapped the frames.
"The intensity of what they're witnessing I think is the most poignant."
Dulhan's painting joins 25 others in the library's new gallery for the debut of "Views From a Distance: Contemporary Afghanistan Through the Eyes of Children," an exhibit of work created by students age 6 to 18 from the Center for Contemporary Art Afghanistan (CCAA) in Kabul.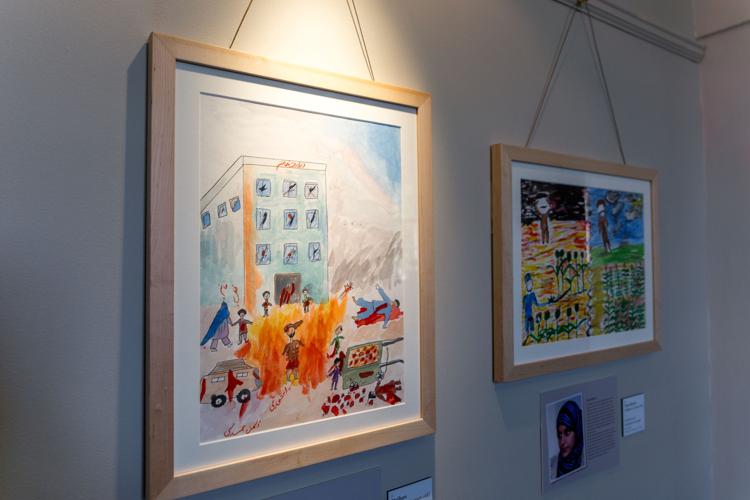 The collection is "about a country we hear about all the time through news media and through American involvement in the war there," said Sweet Briar President Meredith Woo. "An exhibit like this gives some materiality to what could remain as something pretty abstract in people's minds."
The journey of bringing "Views From a Distance" to Virginia starts and ends with a member of the Sweet Briar extended family: New Orleans philanthropist and art collector Richard C. Colton Jr.
The son and brother of Sweet Briar alumnae, Colton connected with Afghan artist and educator Rahraw Omarzad in 2012 to help support CCAA, Omarzad's art school in Kabul.
Most forms of art and creative expression were banned during Taliban rule of the region from 1996 to 2001, but the destruction of its cultural heritage can be traced back to at least the Soviet Union's invasion in 1979. By the time the Taliban fell, some 2,500 cultural artifacts in Kabul's National Museum of Afghanistan had been destroyed.
Despite the ban, Afghan artists continued to fight, hiding their film reels and painting over art to save it from censorship. Omarzad played a role in this rebellion, publishing an Afghan art magazine.
When CCAA opened its doors in 2004, it began by working with 30 women and their children. According to documentation Omarzad provided to The News & Advance, CCAA established an art center exclusively for women in 2006.
Despite being halfway around the world, Colton became involved in the school's operations, donating money and sending art and writing supplies as well arranging transportation to help get the students to and from the school safely.
Colton, a retired businessman and former board member of the New Orleans Museum of Art, had a history of supporting artistic and educational causes.
Before CCAA, Colton had been involved with "Women of the World," a collection of work by women from 174 different countries. After seeing the positive response the exhibit received as it toured the world, Colton said he wanted to use art as a means of promoting another underrepresented community.
He pitched the idea for "Views From a Distance"to Omarzad, who in turn presented the project to his students with the theme of depicting their dreams, said exhibit curator Taryn Nicoll, whom Colton hired to work on the exhibit in 2014.
Soon, Colton began receiving art from the students in Kabul filled with hopes and aspirations and the sights and sounds of their native Afghanistan.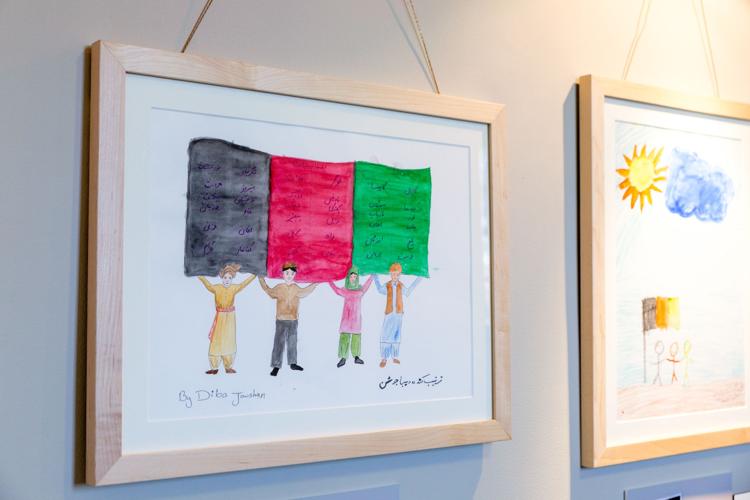 "They were very keen on exploring their life … [reflecting on] their war-torn birth country while sharing aspirations for the future," Colton said during a joint phone call with Nicoll last week.
While the drawings fit together seamlessly when displayed as one, the project took a great deal of coordinating. Colton said he could not travel due to his ongoing battle with cancer, which he has been fighting for six years, so everything had to be done through the mail.
The first batch of drawings were held in Germany and never found, Nicoll wrote in an email following the phone interview. The next shipment, a series of pencil sketches, were damaged during transit.
"We had to send more supplies to Afghanistan and requested watercolor-on-paper paintings," Nicoll continued. "Despite this six-month delay, the paintings turned out beautifully and they are the ones you see at the exhibition today."
A drawing by eighth-grader Lima depicts a man beating his wife while standing in a ruined poppy field, one of many depictions of violence against women. Poppy flowers — a direct reference to Afghanistan's role as the world's largest opium producer — appear in several paintings, said Colton.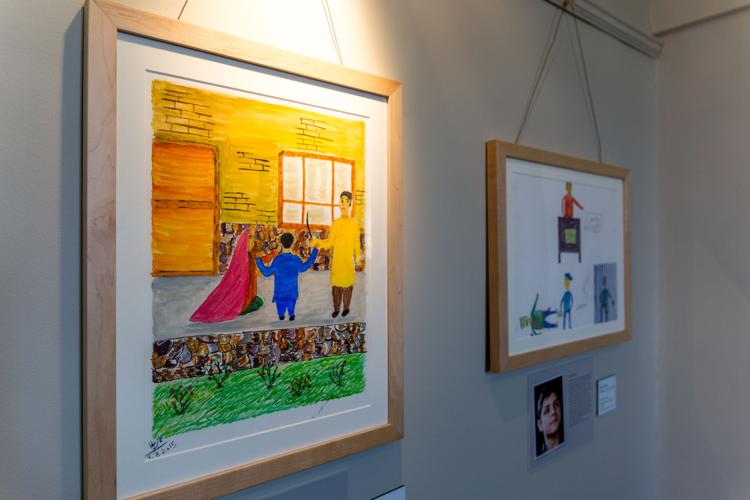 "A lot of the more descriptive and alarming pieces were included to show the day-to-day reality of these children," Nicoll added. "Some of them are as young as 6 or 7 years old and they are portraying images of poppy fields. And they understand the poppy fields are relating to the drug trade."
Despite the dark tones in several of the paintings, others blossom with joy and optimism. There's the schoolhouse filled with eager students drawn by Mariam, 7, who dreams of becoming a teacher, along with 11-year-old Ahmad's painting of a graduation with both men and women in caps and gowns.
"The environment that these young people live in is anything but peaceful," said Woo, who is teaching an introductory class on world politics this semester. "And yet these paintings, this artwork, shows that the young people have the great capacity to hope."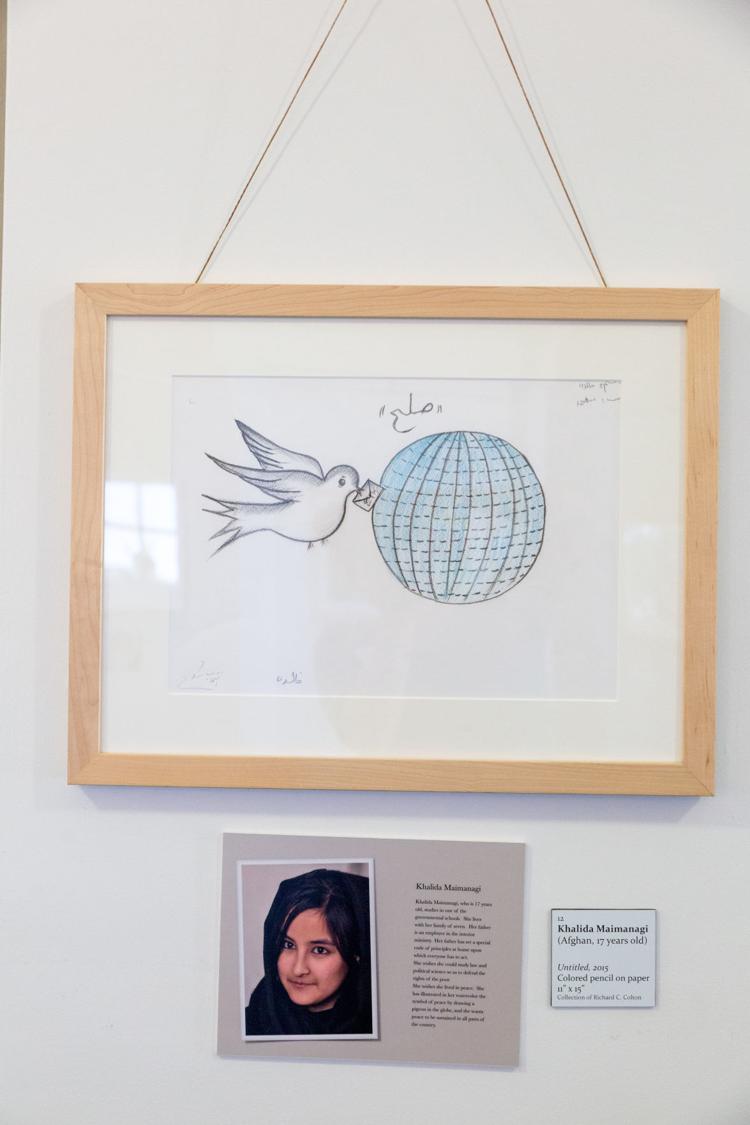 Though Colton said he does not know the current whereabouts of the artists behind "Views From a Distance," their work and their faces still have a chance to be seen by the women of Sweet Briar and the surrounding community.
And though the painted images strike a visceral chord, the short biographies that accompany each submission and photograph are just as powerful. They remind viewers that even though these children live halfway around the world, they too are kids who want the same things as their American counterparts.
Sixth-grader Billal moved from Nooristan to Kabul to get an education and wishes for a cellphone so he can call his mother back home, his write-up said. Twelve-year-old Jamal's favorite food is pizza, though his biography noted he has only eaten it once.
Sadaf dreams of being a designer, but her father wants her to study medicine. According to her information, she also loves music and greatly prefers it to the sounds of bombs dropping nearby.
"I would hope that an exhibit like this makes [the public] more aware of the predicament that nations like Afghanistan face in world politics," said Woo. "I hope that it makes our students more aware of the great power and creativity of art in helping people persist through difficulties."
While the Sweet Briar show is the exhibit's debut, Colton said he hopes the collection will continue on to other institutions and galleries in the near future.
"These pieces make us concentrate on our common bonds and truly universal concerns," Nicoll added. "There are really few things that can accomplish that, but, as we can through this exhibit, children and art always can."
Be the first to know
Get local news delivered to your inbox!