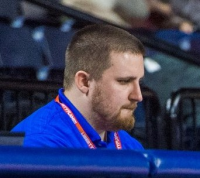 Willis has not publicly announced whether he is entering the NFL Draft or returning for his final season of eligibility.
Army raced out to a 24-point lead on its way to a 31-16 victory over the Flames.
Darius McGhee scored a game-high 19 points, and Liberty held Maryland-Eastern Shore to 10 points over the final 12 minutes to win 73-61.
Army's inaugural visit to Williams Stadium was expected to be the first of many for the Black Knights. With Liberty and Army both playing as F…
There are only two defensive linemen on Liberty's roster who played in the early season matchup against Army in 2018. Ralfs Rusins and Jayod S…
Twenty-five seniors and super seniors at Liberty who will be honored prior to Saturday's noon kickoff against Army.
Liberty announced it and Freeze agreed to a contract extension that will keep him in Lynchburg through the 2028 season. It is the third contract extension Freeze has signed since he was hired Dec. 7, 2018.
For the first time in nearly two years, the Liberty women's basketball team walked off its home court with a loss.
The ASUN Conference preseason player of the year scored 18 of his game-high 27 points in the second half as the Flames held off Bethune-Cookman.
The Black Knights rank 16th nationally in both total defense (318.1 yards allowed per game) and rushing defense (106.1 yards per game) in 2021.
View all