Official storm surge graphics, more lead time for potential tropical cyclone development and an update to storms' forecast cones are all changes in reporting you may notice during the 2023 hurricane season.
Each year, the National Hurricane Center, a government agency based in Miami, updates its products and services before hurricane season.
In the Atlantic Hurricane Basin, which includes the Gulf of Mexico and the Caribbean Sea, the season runs from June 1 to Nov. 30.
Forecasters at Colorado State University predict a 24% chance of a tropical storm or hurricane being within 50 miles of New Jersey, near the average.
Thirteen named storms are forecasted, slightly below the 1991-2020 average.
Of those 13, six are forecasted to be hurricanes, with maximum sustained winds over 74 mph. Two of those should be major hurricanes — category three, four or five storms — with maximum sustained winds over 110 mph.
The most noteworthy change will come with the tropical weather outlooks that are issued four times a day. Forecasts can now provide information on potential storm systems, known as invests, up to a week out. It was previously five days.
This will provide greater lead time to government officials, emergency managers, meteorologists and the public. This will be in addition to the two-day forecasts that have been issued as well.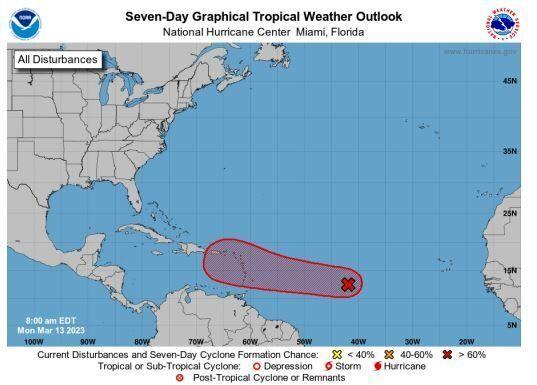 Meanwhile, a previously experimental product has now been approved for government use.
Peak storm surge forecast graphics, which show the amount of storm surge, or water above normally dry land, color coded by severity, will be released at 5:15 a.m., 11:15 a.m., 5:15 p.m. and 11:15 p.m. when storms are forecasted to impact the United States.
Additional advisories, known as intermediate advisories, can be issued at 2:15 a.m., 8:15 a.m., 2:15 p.m. and 8:15 p.m.
During Superstorm Sandy in 2012, Atlantic City experienced 5.82 feet of surge.
The most visible part of a tropical cyclone forecast, the forecast cone, will also undergo its annual size change.
The size of the tropical cyclone track forecast error cone is nearly the same. However, there were slight shifts in the size of the cone that are based on forecaster errors over the past five years. Decreases in the cone indicate improved historical accuracy, while increases in the size of cone indicate reduced historical accuracy.
The largest difference is a 4% reduction in the cone size for a 60-hour forecast. The cone will have its width reduced from 97 to 93 miles.
Smaller improvements were seen in the 72-hour (1% reduction) forecast.
There were smaller decreases in accuracy in the 36-, 96- and 120-hour forecasts. The forecast error cone will be 2%, 3% and 3% bigger, respectively, at these timeframes.
Bigger, more uniform decreases in the cone's size were seen in the Pacific Hurricane Basin, indicating recent forecast improvements. Smaller forecast cones were seen between all of the 36- and 120-hour forecasts.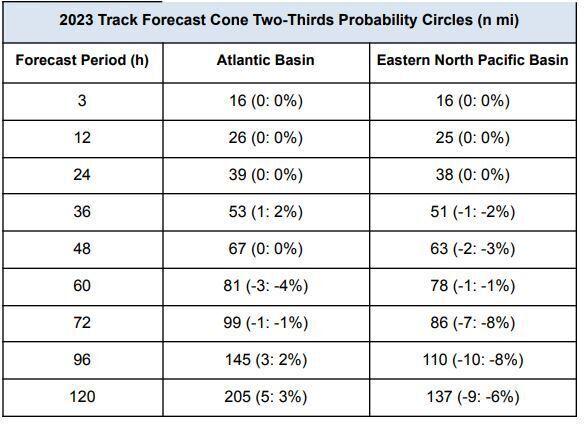 The forecast track cone is the 66% probability of the center of the storm being within that cone.
Last year, the forecast cone shrunk by as much as 6%. Updates in 2022 also included improved messaging through plain-language forecast statements, as well as color-coded storm surge forecasts. More marine forecast zones helped mariners better plan their routes.
When an area of interest in the tropics poses a threat to land this year, livestreams will take place on the hurricane center's social media channel at 11:30 a.m.
The 2023 storm names have been released as well. A name corresponds to each letter of the alphabet, except for Q, U, X, Y and Z.
If all of those names are used, forecasters will refer to an English language supplement list.
Contact Joe Martucci:
609-272-7247
Twitter @acpressmartucci