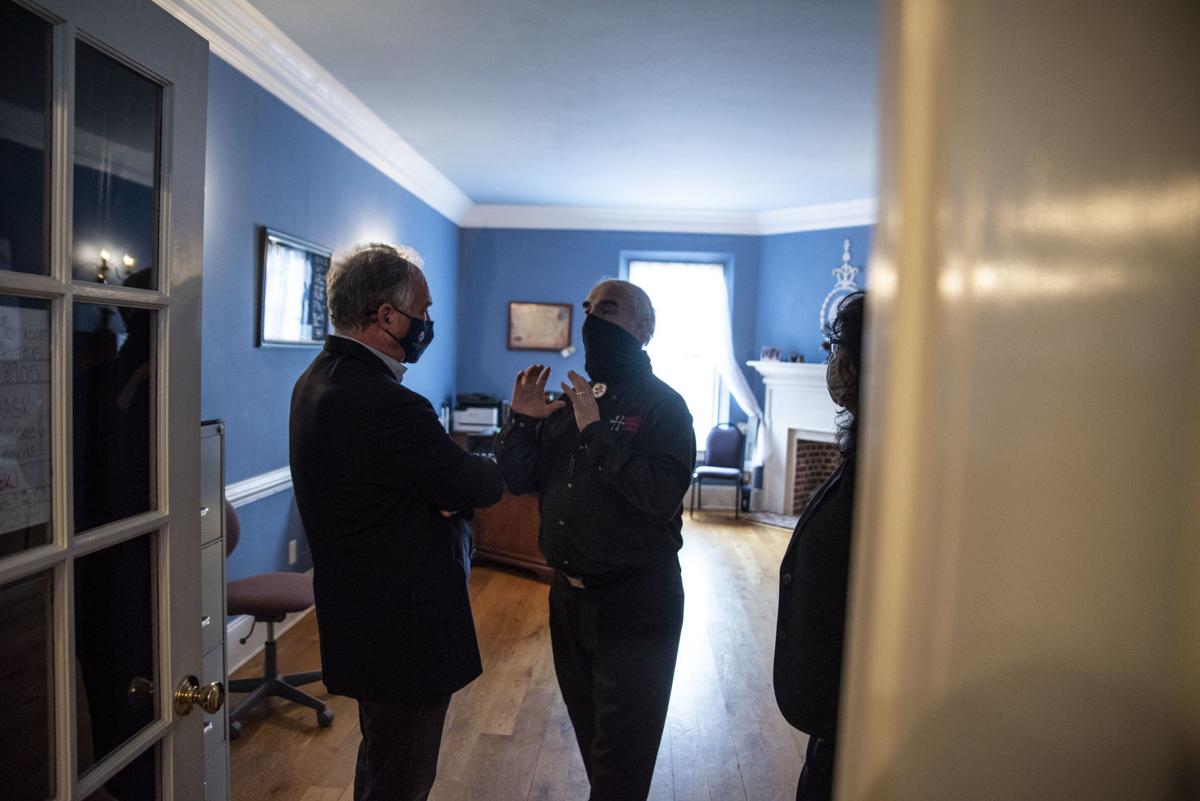 A 4-acre parcel owned by the Monacan Indian Nation on Highview Drive in Madison Heights received a rezoning approval from the Amherst County Board of Supervisors on April 20.
The Amherst County-based tribe bought the property in fall 2020 and opened up its new headquarters there, a more spacious complex of buildings than its previous location in the town of Amherst,
The rezoning from General Commercial (B-2) and General Residential (R-2) to entirely B-2 allows the property to be developed for business use, according to county officials. U.S. Sen. Tim Kaine, D-Va., in February toured the Monacan Highview Complex and discussed with members their needs and response during the COVID-19 pandemic.
The unanimous rezoning includes two conditions that a 25-foot vegetative buffer remain on the side and rear portions of the lot that border residential-zoned parcels and all landscaping requirements are met. The existing land use is a fitness center.
Herb Hicks, a Madison Heights resident and tribe member, said the Monacans' dream for the property will bring jobs to Amherst County and enhance the land's productivity. A health clinic on site will employ 20 people and two buildings for storage and office space also would benefit the site.
"I am extremely proud of what we are doing," Hicks said.
Kenneth Branham, the tribe's chief, said the vast majority of the Monacans' membership of 2,500 is in support of the plans for the property.
"It will bring jobs to Amherst County. It will bring tax revenue," Branham said. "It's a win-win situation for everybody."
Many funding opportunities opened up for the tribe in early 2018 when it received federal recognition after a 20-year effort, which Kaine praised during his recent visit. The location already offers a variety of services that include rental assistance and homeless prevention programs, drug prevention and rehabilitation programs, tribal enrollment and genealogy and environmental protection services as well as meeting other needs of local residents.
Kaine in March jointly announced with U.S. Sen. Mark Warner, D-Va., $208,875 in federal funding for the Monacan tribe. The money from the American Rescue Plan Act, the $1.9 trillion federal stimulus package President Joe Biden recently signed into law, will help the tribe develop and manage affordable housing assistance.
Branham said the tribe is proud of the progress made and is in constant contact with the Bureau of Indian Affairs and other federal agencies.
"We've always tried to be good neighbors," he said of the tribe's use of the property being harmonious with the area.